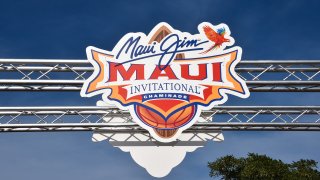 A top-20 showdown in paradise, as unbeaten and 17th-ranked San Diego State played unbeaten and 14th-ranked Arizona Tuesday in the semifinals of the Maui Invitational.
The Wildcats looked like the better team early, as they surged to a 31-15 lead highlighted by a beautiful transition alley-oop to Azuolas Tubelis.
However, SDSU rallied in the final minutes of the half behind a couple of steals and scores from Darrion Trammell, trimming the Arizona lead to four points at 37-33.
Aztec coach Brian Dutcher had his team ready to play out of the break, as the Aztecs continued their surge by taking their first lead of the game. Keshad Johnson's 3-point play on a dunk and a free throw gave the Aztecs a 42-40 lead early in the second half.
Arizona answered the Aztecs' 26-9 run with a run of their own. The Wildcats regained control with a 15-3 run to grab a 55-44 lead.
From there Arizona cruised to an 87-70 win. San Diego State drops to 4-1 on the season, while the Wildcats improve to 5-0.
SportsWrap
The top sports headlines of the day
Arizona shot over 50% from the field and had five players score in double figures.
The Aztecs struggled shooting from distance, making just three 3-pointers in 20 attempts. SDSU only had one player in double figures: Trammell with 21 points.
Next up for the Aztecs is a Wednesday game against Arkansas for 3rd place in the Maui Invitational.