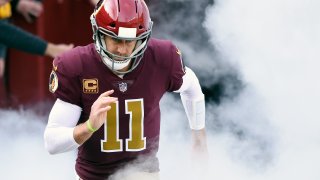 In November of 2018, Alex Smith suffered a leg injury that could have cost the quarterback his life. On Sunday, Smith's remarkable recovery continued when the Washington Football Team cleared Smith for football activity, activating him off the physically unable to perform list.
Smith was on the field when Washington began full-pad practice Tuesday.
"Even just a few days in how much more natural I felt out there," Smith said. "I just wasn't thinking about it thinking more about football and playing the game which has been really really nice to kind of lose yourself in that."
He spoke with reporters about the obstacles he faced in his recover on Wednesday.
"It took a long long time before I could even look at my leg," Smith said.
Smith, 36, broke the tibia and fibula in his right leg in a November 2018 game, then developed an infection in the leg. Smith required 17 surgeries, and doctors not only worried about the possibility of his leg being amputated but also feared for his life.
SportsWrap
The top sports headlines of the day
"You fall asleep you kinda forget what had happened and you wake up and it would kind of hit you again every single day like nah this is really real."
Despite the odds against his return, Smith vowed to get back on the NFL field.
"To see what I can do, and to knock down those walls. It obviously started with my first step as I kind of relearned to walk."
His multi-year, multi-step recovery was captured during an ESPN documentary, which showed just how grueling and amazing Smith's comeback is.
In 13 years, Smith has started 161 games and thrown 193 touchdowns and 101 interceptions. If Smith is able to continue his comeback, he figures to be in the quarterback mix in Washington with Dwayne Haskins and Kyle Allen.
"In the back of my head you wonder if I'll be able to do again, and its still sitting out there," Smith said when asked about his goal of returning to an NFL game. "You get closer and closer to it, it just fuels it even more. It'd be like running a marathon and getting close to the end of the race, and even more that competitiveness kicks in and I want to see if I can do it."
He of course is well aware of what he'll have to face if that day comes, but his drive to complete this journey outweighs the fear of getting hit for the first time, since the last time.
"I've thought about that more than I can say. Certainly that's been in the back of my head throughout this entire process," Smith added. "I got to go out there and get hit. I got to go down and do it and know that obviously my leg is strong enough to take it. Certainly from a decision making standpoint, life, determined not to let that fear dictate my decision making. But no doubt that it's there but for me obviously choosing to move past it."