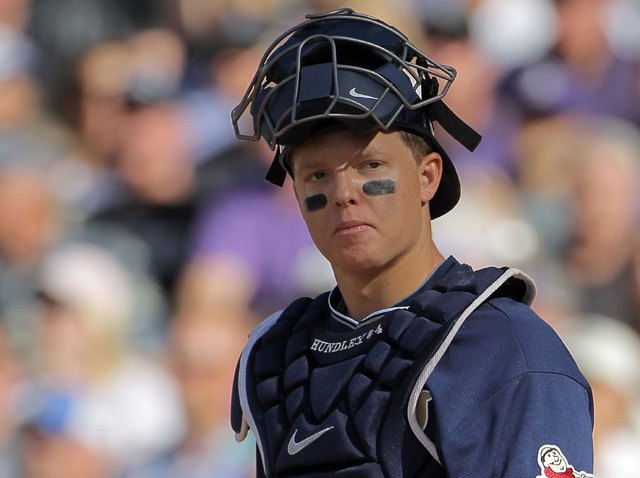 The Florida Marlins have been hard to beat since the All-Star break.
Ricky Nolasco took a two-hitter into the ninth inning, Dan Uggla hit his 144th home run to become Florida's franchise leader and Mike Stanton also homered to lead the Marlins to a 6-3 win over the NL West-leading San Diego Padres on Saturday night.
Florida won for the 13th time in 19 games and is 11-5 since the All-Star break.
SportsWrap
The top sports headlines of the day
"If we start to play like we did earlier in the year, then obviously we probably won't be in it in September," Uggla said. "If we keep doing what we're doing right now, we've got a shot."
The Marlins are tied with the New York Mets for third in the NL East, 6½ games behind Atlanta.
"The mood around here is good," Nolasco said. "Nobody's giving up, obviously."
The Marlins even made a move before the trade deadline, obtaining left-handed reliever Will Ohman from Baltimore for right-hander Rick VandenHurk.
The Padres' lead in the NL West is down to 1½ games over the San Francisco Giants, who beat the Los Angeles Dodgers 2-1. It's the Padres' slimmest lead since July 10, when they were one game up on Colorado.
With the Marlins leading 6-1, Nolasco (12-7) was two outs from his second complete game of the season and fifth of his career before allowing Jerry Hairston Jr.'s single to center followed by Chase Headley's ground-rule double down the left-field line. Manager Edwin Rodriguez came out for a mound visit and left Nolasco in. Adrian Gonzalez then hit a two-run single to right, chasing Nolasco and bringing on Leo Nunez.
Miguel Tejada followed with a single to center for his first hit with the Padres. Tejada was forced on Nick Hundley's grounder and Nunez retired Will Venable on a grounder to get his 26th save in 31 chances.
"I got in a little groove and the offense did a great job putting those runs up," Nolasco said. "I was throwing the ball pretty well for a while. That makes it a little easier. It was a little frustrating there in the last inning, but what are you going to do?"
Nolasco held the Padres hitless until Scott Hairston led off the sixth with a homer to left, his 10th. The right-hander faced one over the minimum through seven innings. Nolasco's only walk was in the first to Headley, who was erased on an inning-ending double play. He struck out seven.
"He was getting his breaking ball over for strikes. He was getting ahead of us," Hairston said. "His fastball had a little run to it. He was working at his tempo. He didn't make too many mistakes."
The Marlins have hit four home runs in two nights at spacious Petco Park, and 12 in six games on their swing through San Francisco and San Diego. They have 20 in 16 games since the break. Cody Ross and Gaby Sanchez homered in the Marlins' 4-2 win Friday night.
Uggla, in his fifth big league season, had been tied with Mike Lowell for the franchise home run lead before hitting a solo shot into the second deck in left-center with one out in the sixth for a 3-0 lead. It was his 23rd. He has seven homers in his last nine games.
"It's an awesome thing," said Uggla, who thanked owner Jeffrey Loria and the front office for keeping him around. "It's a special thing and I'm going to enjoy it tonight."
Rodriguez said everyone in the dugout was aware of the franchise record.
"He's been a big part of this organization, so good for him," the manager said.
With Uggla aboard on a leadoff walk in the second, Stanton homered with one out, also into the second deck. It was his ninth.
Both came off Kevin Correia (7-7). Correia allowed three runs and four hits in six innings, struck out four and walked four.
"Two bad pitches to two guys with a lot of power," Correia said. "Off-speed pitches that stayed up. Those aren't two guys to miss to."
Hanley Ramirez singled with one out in the seventh and scored when left fielder Scott Hairston committed two errors on Logan Morrison's fly ball. Sanchez hit a two-run single in the ninth.
NOTES: The Padres acquired OF Ryan Ludwick from the St. Louis Cardinals in a three-team trade. Manager Bud Black said Ludwick will start in Sunday's series finale. ... The Marlins will send RHP Alex Sanabia down to Triple-A to make room for Ohman. ... Padres 2B David Eckstein, on the disabled list since July 21 with a strained right calf, said there's "still something in there" and that he and the team will be cautious to make sure there are no setbacks.