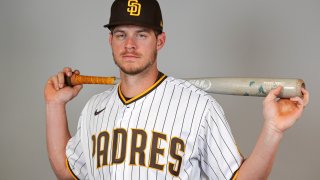 The San Diego Padres just keep on winning.
With Tuesday night's 14-5 victory over the Colorado Rockies, the Padres are accumulating some pretty impressive streaks.
The Padres have won three straight games, 7 of their last 10, and 16 of their last 20. For the season, the Padres are now 27-17. San Diego has the second-most wins in the National League behind the Los Angeles Dodgers, and the third-most wins in the Major Leagues, trailing only the Dodgers and the Tampa Bay Rays.
In Tuesday's game, the Padres fell behind 3-0 in the first when Rockies 3rd baseman Nolan Arenado took Mike Clevinger deep for the 3-run homer.
But in the bottom of the 1st, the Padres got it back and then some. Wil Myers' grand-slam was the big blow in a 5-run 1st inning. In the 7th inning, Myers hit his second homer of the game to give the Padres a 12-5 lead.
Austin Nola also homered for the Padres giving them three homers for the game.
SportsWrap
The top sports headlines of the day
The Padres will look for the three-game sweep of the Rockies on Wednesday when the two teams finish up their series at Petco Park.
LISTEN: With NBC 7 San Diego's Darnay Tripp and Derek Togerson behind the mic, On Friar will cover all things San Diego Padres. Interviews, analysis, behind-the-scenes...the ups, downs, and everything in between. Tap here to find On Friar wherever you listen to podcasts.