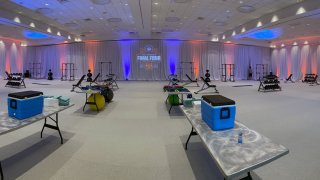 NCAA women's basketball players are celebrating this weekend after receiving an upgraded weight room following complaints that the women's facilities were subpar compared to the men's.
NCAA Women's Basketball posted a photo of the new gym on Twitter, declaring, "The weight room has arrived! Let's gooooo."
Earlier this week, Stanford University Sports Performance Coach Ali Kershner shared images on Instagram of a small rack of dumbbells in the women's weight room next to an image of a vast expanse of benches, racks and barbell weights in the men's weight room.