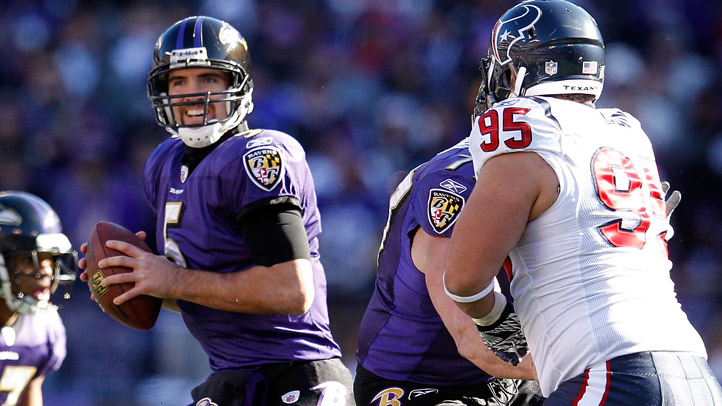 Skeptical that Joe Flacco can outduel Tom Brady this Sunday? You ain't alone. Ravens safety Ed Reed took a moment on Monday to say what everyone already thinks of Flacco:
I think a couple of times he needed to get rid of the ball. It just didn't look like he had a hold on the offense... He can't play like [he did against the Texans].
The thing you have to understand about Joe Flacco is that he brought stability to one of the more unstable positions in all of football. Do you realize that Trent Dilfer, despite winning the Ravens a Super Bowl, only started a grand total of eight regular season games for them? Look at how dire this list is. Before Flacco, the Ravens cycled through fifteen different starting QBs in a span of 12 years. I looked at that list and literally could not remember Randall Cunningham ever playing for this team. The turnover in Baltimore was so fast, you barely had time to notice. Remember Anthony Wright? Of course you don't.

So Ravens fans are uncommonly loyal to Flacco because he was able to bring some semblance of order to a chaotic situation. The problem is that may be ALL he brings. He's like a pitcher who gives you lots of innings without ever having an ERA below 4.00. Flacco has taken the Ravens to the playoffs his first four seasons. No other QB has done that, but let's be honest: It's not as if Flacco has been solely responsible for those playoff runs, not when the Ravens consistently feature a good defense and a healthy running game. Mark Sanchez has more road playoff victories than any other quarterback EVER. You don't see that little stat keeping Jets fans from wanting him booted out the door. And with good reason, because Sanchez is a thoroughly average QB.

Flacco may be better than Sanchez, but you'd be shocked at how close of a contest it is. Flacco's numbers over his career have remained almost exactly the same. He always throws ten to twelve picks. He always throws 20-25 touchdowns. And he always passes for 3,600 yards (three years in a row). There's been no indication that he's actually improving. And this is with the Ravens handing him more and more weapons each year to work with (Ray Rice, Anquan Boldin, etc.). In fact, Flacco's completion percentage this season (58%) was the worst of his career. At this point, he may be as good as he'll ever be. There's no reason to think he'll suddenly make a leap and start playing like Aaron Rodgers.

And that's a real problem, because the Ravens need that if they want to start winning Super Bowls with Flacco at the helm. Sunday is the biggest game of Flacco's life. If he can somehow pull out a 250-300 yard game with 5 touchdowns, then maybe all of us, even Ed Reed, got Joe Flacco wrong.
SportsWrap
The top sports headlines of the day
But something tells me that ain't happening.