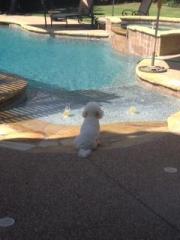 It started to set in late last night.
"All the blood, sweat and tears, all the hard work we've put in … It comes down to eight quarters," safety Eric Weddle said Monday.
An improbable playoff run has turned into an acclaimed playoff run, at least for now. Emotions ran high last night as the Chargers returned to their home on Murphy Canyon Road, only to be greeted by about three hundred fans cheering their wild card win over the Bengals.
SportsWrap
The top sports headlines of the day
"It was a lot of excitement to see our fans behind us," said linebacker Melvin Ingram, who had his first career interception off Andy Dalton. "Them being out there to support us means a lot."
The time for basking in the win is over.
Focus, now, turns forward. Focus turns to Denver. Focus turns to the rubber match against a team they will face for the third time this season, a divisional opponent that got the best of them once this year, but not in their most recent meeting.
"I think that gives you confidence to know that we can win when you know you've done it only four weeks ago," Rivers said, speaking of the 27-20 victory in Denver Dec. 12. "I don't think we'll have any problem making sure everybody realizes that it's not just going to happen again and realize how hard that was and how well we played on both sides of the ball and how we capitalized and got touchdowns in the red zone. All those things are the reasons we won. We didn't just go in there and win. So it's going to be hard. They're a No. 1 seed for a reason. This is a heck of a team and it's rare to play an opponent three times in a season and being a division opponent, one we know well, they know us well. It's going to be awesome."

The trick is to not over-think things, Rivers said, which is sometimes easier said than done against a Peyton Manning-led team.

"You have two games on tape," he said. "You can over-think some things. They did this and this, so let's do this and that, and we can get this. You can almost out-think yourself or out-plan. I think it's important just to plan like you always have, prepare like you always have, study the same, and be prepared for something new. You prepare for a wrinkle and the way you prepare for something new is just by saying that they're going to throw something new at us. You can't chase ghosts and start trying to dream up what they may do now. There's going to be some wrinkles here and there and you go and just cut it loose."

The Broncos had a bye last week, but Rivers said the lack of rest may not be as detrimental as it seems.

"It sounds crazy, because we've said that amongst us in here, that it's nice to keep going and keep playing," said Rivers. "Of course, we would say that because the two times we had the bye we haven't played very well and haven't won.

"The way we've played to finish, I think it's certainly a good thing that we can just keep on going."