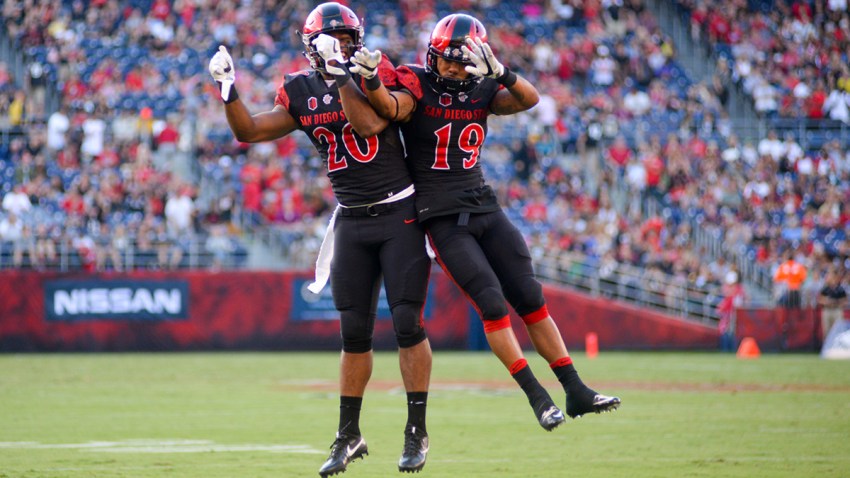 Rainy Saturday night at Qualcomm, and it looked like it might have put a damper on the Aztecs, as they fell to Colorado State 63-to-31 in their final home game of the season.
The Aztecs hold the spot as the number one ranked defense in the Mountain West Conference. However despite their numbers they were unable to put a stop on quarterback Nick Stevens and the Rams offense.
Stevens found wide receiver Michael Gallup seven times for a total of 139 yards and three touchdowns. This was just some of the 63 points put up by the Rams offense.
SportsWrap
The top sports headlines of the day
Colorado State came up big multiple times throughout the night. However in the second quarter it was the El Cajon native and Valhalla high school graduate who exploded for the Rams on a punt return. Robert Ruiz took it 91-yards to the house for the touchdown to extend the Rams lead. He would go on to score again before the half was over.
While the Rams excelled on offense their defense was not a beat shy of their A game. They managed to hold the unstoppable Donnel Pumphrey to just 18 carries and 53 total rushing yards.
However Pumphrey still managed to put up points despite his rushing yardage. Prior to the half Pumphrey came out with a 7 yard touchdown run, this marking his 60th career rushing touchdown. With that he passes Eric Crouch and Colin Kaepernick, slipping into ninth place on the all-time NCAA FBS list.
The Aztecs will look to recover from this loss as they get ready to take on Wyoming on December 3 for the Mountain West Football Championship.