After falling one goal shy of winning their first gold medal four years ago, the U.S. women's water polo has a new view. This time, it's from the gold medal position on the podium.
The U.S. beat Spain 8 to 5 in the gold medal match of the London 2012 Olympic Games Friday. The teams had ended an earlier meeting in a 9-9 draw.
Bay Area athlete Maggie Steffens was named tournament MVP, five goals in the final. She was the leading scorer for the tournament.
After the gold medal ceremony, the team posed with coach Adam Krikorian, layering all of their gold medals around his neck.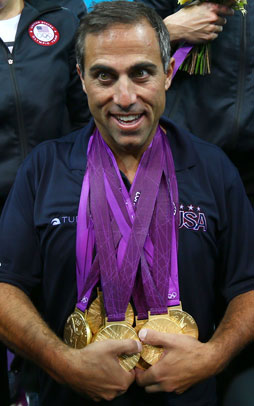 The team earned a silver medal in 2000, bronze in 2004 and silver again in 2008. The most recent Olympics was the most disappointing for the team who returned to London with only gold in mind.
Kelly Rulon of Point Loma, was among the seven veteran players who remember the painful loss to the Netherlands in Beijing.
Rulon, a graduate of Cathedral High School, represents talent in the water polo hub of the country.
San Diego native Annika Dries first played with the U.S. national team at the 2009 Holiday Cup. A member of the Stanford University women's water polo team, Dries elected to redshirt this year in order to compete in the Olympics.
More than half the U.S. women's water polo team grew up south of Santa Barbara. All but two are from California.
Get Olympic updates:iPad App | iPhone App | Android App | Facebook| Twitter | Google+ | Instagram | RSS | Text Alerts | Email Alerts