The best Little League baseball team in Southern California is headed to Williamsport to compete for a shot at the Little League World Series.
The Eastlake Little League All-Stars won the Western Regional Tournament Saturday 9-0.
Eastlake avenged its only loss of the tournament by blowing out Belmont-Redwood Shores.
First inning, Nick Mora had 3 hits and Michael Gaines scored from first. Eastlake took a 1-0 lead.
They only scored 2 runs in their first meeting. They got 450-percent more Saturday night.
In the fourth inning, Jake Espinoza singled up the middle.
Micah Pietla-Wiggs tried to score from 2nd. It was closer than it might have been because Micah tripped rounding 3rd but still got up and evaded the catcher. The score was then 6-0 Eastlake.
Grant Holman took it from there: complete-game, 2-hit shutout.
The final out on a comebacker.
Eastlake won 9-0.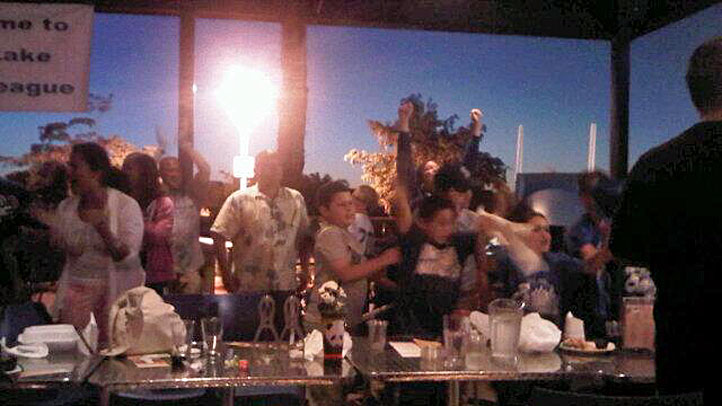 Fans of the Eastlake All-Stars got together Saturday night to watch the game televised on ESPN.
As you can see by the image to the right, the crowd went wild when the hometown team won.
Chula Vista has a little experience in this since it was just four years ago that Park View not only qualified for the Little League World Series but won the championship.
Their first game is Friday, Aug. 16 against Great Lakes. A notable player on the Grosse Point Woods-Shores Little League is the 6-foot, 2-inches tall first baseman and pitcher Chad Lorkowski. At 12 years old, Lorkowski is the size of San Diego Padres player, and 30-year-old man, Will Venable.
The Eastlake Little League All-Stars roster includes Grant Holman, Jake Espinoza, Micah Wiggs, Michael Gaines, Kevin Bateman, Rennard Williams, Dominic Haley, Charly Peterson, Giancarlo Cortez, Nick Mora, Patrick Archer and Ricky Tibbett.
Published at 8:32 PM PDT on Aug 10, 2013 | Updated at 9:12 PM PDT on Aug 10, 2013