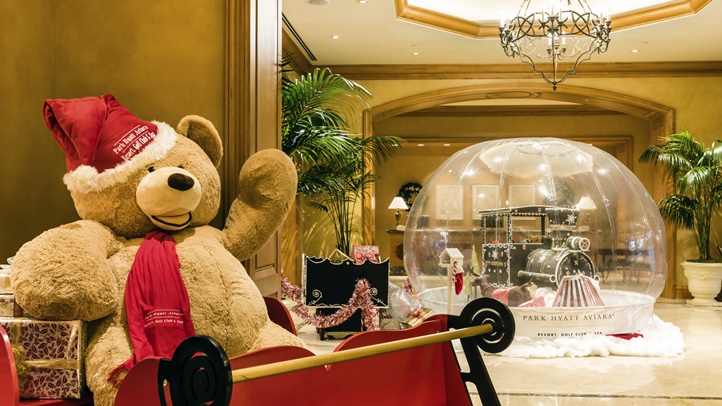 GINGERBREAD STUDIES: As you wade through miles of ribbons and buckets of bows in the general direction of December, chances are very good that you'll see some gingerbread houses. You might come across the basic kits on store shelves or a fully realized house at the local community center or another spot where construction of the merry abodes is a common occurrence, like at a school or church. But actually picking up a few tips on how to put together a lovely candy-lined casa of gingerbreadian proportions? That chance doesn't come around all that often, unless you're at the Park Hyatt Aviara Resort, Golf Club & Spa and you happen to have the hotel's "expert pastry team" guiding you through the cheerful basics, from gumdrop placement to frosting techniques. But the Gingerbread Class offered by the Carlsbad getaway isn't the only confection on the busy December 2017 calendar. There's also a...
TEDDY BEAR TEA AT PARK LOUNGE, which includes goodies and an appearance by the Peppermint Princess, who'll surely spin a few sweet stories during the happy happening. Also sweet? Kids attending the tea are "...asked to bring a teddy bear to be donated Rady's Children Hospital and the Ronald McDonald House." And if you're calling upon the luxe destination from Dec. 20 through 24, follow the aroma of roasting chestnuts, and stop for a few. If you're visiting earlier than those dates, note that toasty cider and cocoa will be available in the lobby from Nov. 27 through Dec. 27. And those gorgeous themed trees and wreaths adding whimsy to the lobby? There are several to admire, including one based on the ocean and another on Santa's Workshop. Visitors to the hotel lobby are invited to bid on the tree of their dreams, with the knowledge that money raised will go to showing support to local military families.
DO NOTE... that you'll want to reserve ahead of time for the Gingerbread Class, and the Teddy Bear Tea, too, and keep in mind that both happen on select dates, so consider lining up your Park Hyatt Aviara sojourn with the activity closest to your holiday-loving heart.
Copyright FREEL - NBC Local Media