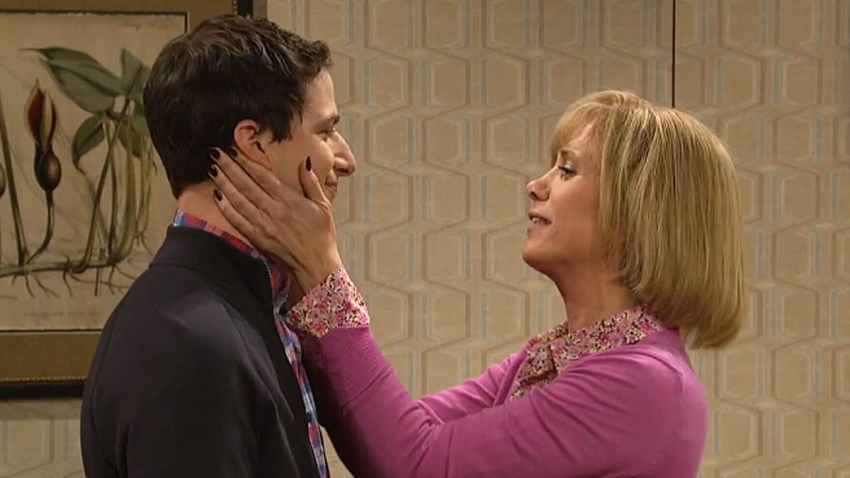 Andy Samberg may have been the host of this week's "Saturday Night Live," but he wasn't the only returning cast member to help close out the show's 39th season.
In his opening monologue Samberg called on former "Weekend Update" anchor Seth Meyers to help him one-up another former cast member Bill Hader's total number of impressions during his time on the show.
Firing off different accents and mannerisms of Jim Carey, Seth Rogan and Ryan Reynolds, Samberg thought he set a new "SNL" record until Hader quickly ran out on stage and performed three more impressions to maintain his "Master of Impressions" title.
Martin Short also joined the crew to present Hader with a congratulatory bouquet.
The cold open scene, entitled "A Message from Solange and Jay Z," spoofed the recent leaked video of the two famous in-laws fighting in an elevator and the statement they released following the media storm.
"So we're asking ya'll in the media to leave us alone," said Solange (Sasheer Zamata), sitting next to Jay Z (Jay Pharaoh).
Every time she made a gesture toward Jay Z, a security guard (Kenan Thompson) would abruptly interject to protect the rapper, to make sure she didn't attack.
Jay Z and Solange showed the elevator footage again, but this time with audio, which revealed that Solange was just trying to get a spider off of Jay Z when she started kicking and clawing at him.
"So remember everyone, I love Jay Z and Beyonce," said Solange. As soon as she mentioned her sister, Beyonce (Maya Rudolph) entered.
"Did somebody say my name?" she said, sporting perfect fan-blown hair. "If you think I condone this invasion of privacy, you must not know about me, you must not know about me," referring to lyrics in her songs, "Say My Name" and "Irreplaceable."
"Weekend Update" focused on recent findings on climate change as well as the ongoing Donald Sterling controversy over his racist tirade.
"Scientists reported this week that the rapid melting of the vast glaciers of Antarctica has reached the point of no return," said Colin Jost. "For more on this story check out the new film 'Worried Feet.'"
Cecily Strong discussed the L.A. Clippers owner, saying, "In an interview this week Donald Sterling said he was set up saying he was 'baited' and baited is the right word because Sterling himself is a catfish."
In the "Update's" segment, "Get in the Cage," Nicolas Cage (Andy Samberg) interviewed Paul Rudd to discuss his newest Marvel movie, "Ant-Man." Cage, directed all conversation back to himself and referred to Colin Jost as "Seth my old friend!," mistaking him for former co-anchor, Seth Meyers.
The sketch filled with the most "SNL" alums, was "The Vogelchecks," a recurring sketch involving an overly affectionate family. Former cast members Kristen Wiig, Fred Armisen, Bill Hader, and Paul Rudd, played family members as Samberg introduced his boyfriend (Taran Killam).
To Killam's surprise, each family member greeted each other with explicit kissing.
Then they all started to watch the NFL draft, but when the first openly gay player, Michael Sam, was picked and was filmed kissing his boyfriend in celebration, the Vogelchecks seemed to be outraged.
"I'm sorry I have to say something," said Killam. "I didn't speak up when you all made out as a family, and I think you're being a little closed-minded about a happy couple celebrating on television who just happen to be gay."
Armisen's character agreed for the whole family, but added, "Just don't show grandma, she's a little old fashioned."
But when the grandmother (Kate McKinnon) saw what they were watching, she went into shock. They called for her nurse (Maya Rudolph) who performed a strange version of CPR.
St. Vincent performed "Digital Witness," and "Birth in Reverse" off her self-titled album.