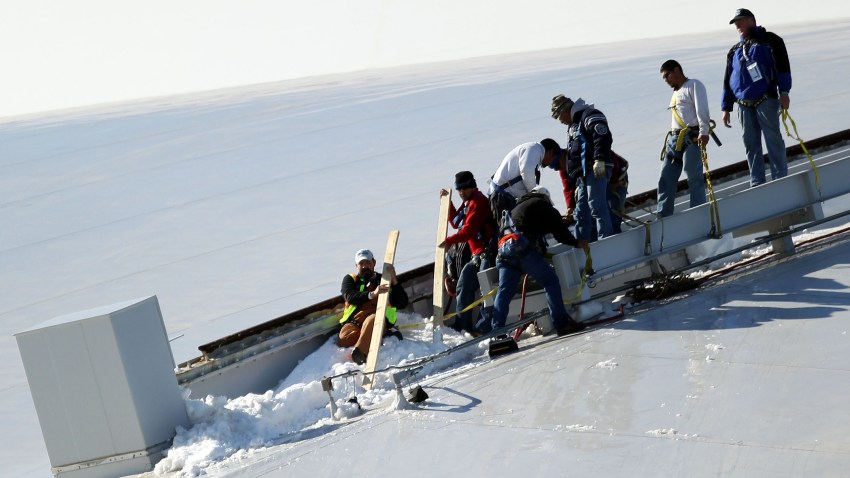 Arlington firefighters chipped away at the ice still on the roof of Cowboys Stadium less than 24 hours before the Super Bowl.
Six people -- NFL contract workers and a journalist -- went to a hospital Friday after they were injured by snow and ice that slipped off the stadium.
Firefighters tethered by safety harnesses used 2-by-4s, pick axes and high-pressure fire hoses to dislodge long sheets of ice. (View photos here) Work began at sunrise.
"We are going to get it removed," Arlington Fire Chief Don Crowson said. "We're going to stay out there all night until it's taken care of."
Stadium officials also raised the temperature inside the arena on Friday in an attempt to melt any remaining ice.
"It's very warm inside," Crowson said. ""A lot of the snow and ice has melted, and our main problem is in the gutter areas near the lip of the building that we believe represents a hazard, and we're doing our best to remove that right now."
Chopper 5 spotted what appeared to be minor damage to the southern edge of the roof.
On Saturday, more of the falling ice and snow crumbled a tent set up at one end of Cowboys Stadium. (See video here) No one was injured.
Six People, Not Seven Injured
The Arlington Fire Department said the people were injured when ice and snow fell off the southern area of the stadium roof at about 1:15 p.m.
While the Arlington Fire Department initially said that the six injured people were all NFL contract workers, the New York Times reported that one of the injured was a photographer for Getty Images assigned to cover the Super Bowl.
The NFL initially said Friday that seven people were hurt, but only six people were injured. None of the injuries were life-threatening, the NFL said.
"The ice and snow melting off of the Cowboys Stadium roof has caused several sliding snow falls onto the plazas," Brian McCarthy of the NFL said. There have been several injuries."
"Ominous" Defrosting
Otto Schellin, chief engineer at WPXI-TV out of Pittsburgh, narrowly escaped the falling ice.
"It looked like it was not only snow but also ice," he said. "It was pretty ominous."
Arlington fire Lt. Pedro Arevalo said one person was taken to John Peter Smith Hospital in Fort Worth and another went to Arlington Memorial.
Two people were transported by ambulance, one with a head trauma and the other with a shoulder injury.
The person who sustained the head injury was in stable condition later Friday evening and was kept for observation but released Saturday. The hospital said Friday that the man was lucid but confused after being hit.
The New York Times reported that Getty photographer Win McNamee's left shoulder was broken in four places by falling ice. He told the newspaper that he was returning to Washington, D.C., on Saturday to "await word on surgery."
Officials Respond to Incident
After Friday's accident, Cowboys spokesman Rick Dalrymple told The Associated Press that team owner Jerry Jones was not available for comment and referred questions about the falling snow and ice to the NFL.
"All stadium entrances have been closed except for the truck tunnel, which is away from the building by a very safe distance," McCarthy said. "All workers and visitors will now enter and exit through the tunnel until further notice."
NFL Commissioner Roger Goodell said Friday that workers were checking the roof for areas where there could be more issues.
"The likelihood is they'll have to get somebody up there to get the snow off as soon as possible," Goodell said. "They likely will be doing that in the next 24 hours."
"Safety is our priority, but we do have some unique circumstances around the stadium right now," Goodell said. "What we're focusing now is first the stadium and the people that were injured. Second is the safety of the people around the stadium, make sure that we can secure an area, make sure that they can continue to do what they need to do in a safe environment."
Cowboys Stadium is the site of Super Bowl XLV on Sunday.
North Texas has been plagued by severe weather all week, including up to 7 inches of snow on Thursday in some parts of the Metroplex.
Problems in the Past
The accident Friday wasn't the first involving icy conditions at Cowboys Stadium.
In December 2009, two workers doing maintenance on the icy roof were injured when they slipped and tumbled at least 50 feet. They didn't fall off the roof because they were stopped by what is basically a huge rain gutter. One of the workers broke a leg and suffered other injuries, and the other had a back injury.
The accident came on the same day former Cowboys player Jamar Hunt settled his lawsuit seeking damages after he said he was hurt when the team's tent-like practice facility in Irving collapsed during a gusty storm in May 2009.
Attorney Michael Guajardo said Hunt received an undisclosed amount as a result of the settlement with Summit Structures, its Canadian parent, Cover-All Building Systems Inc., and two corporations controlled by Jones.
NBC DFW's Kevin Cokely and Ellen Goldberg contributed to this report.
Copyright AP - Associated Press