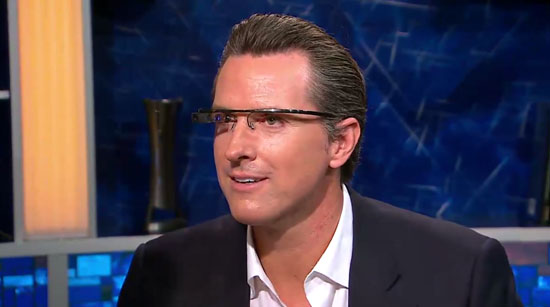 Boy, is Google milking details for its Project Glass little by little. Google co-founder Sergey Brin showed off Project Glass to California's Lieutenant Governor Gavin Newsom, sharing some new details on the eyewear while letting him try it on for himself.
What we know so far on Project Glass is that it has a 3-megapixel camera that can shoot HD video, too. Audio can't be recorded. To take a photo, you need to press a little shutter button on the right side of the eyewear. Then, to share the photo to Google+, you simply nod your head (most likely to accept a prompt).
We also know that the glass (there's only one) sits slightly above the eyeball, so it doesn't obstruct your view of the real world. Google's even stressed that Project Glass won't be as extravagant as it made its concept video out to be.
Newly revealed on The Gavin Newsom Show is that the eyewear has a touchpad (ah, so that's what that hunk of plastic is for) on the right side. Photos displayed on the tiny transparent display can then be navigated with the touchpad. Frankly, we'd much rather see Google implement its finger-related patent as a control instead of a touchpad, but that's just our wishful thinking.
Newsom says the image displayed was "remarkably clear" and that refocusing on real-world objects was extremely easy. Brin also told Newsom that Google's been working on Project Glass for the last two to three years. Grilling Brin on when the device would come out:
I have some hopes to maybe get it out sometime next year," he told Newsom, "but that's still a little bit of a hope." With this in mind, it's possible that what Newsom demoed on Wednesday could change radically before the final production model hits the market.
There you go. Brin just dispelled any possibility of Project Glass launching this year. How disappointing.
You can watch the entire news segment in the embed below.
Via Wired
Copyright DVICE - DVICE