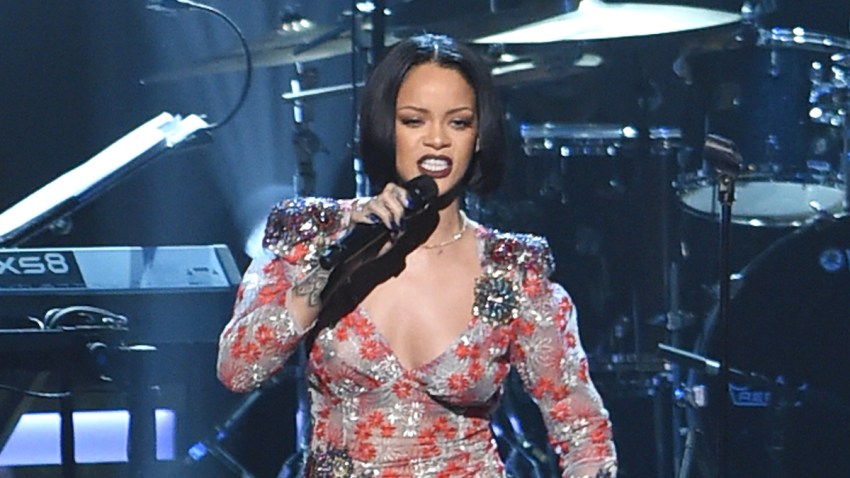 Rihanna has canceled her performance at the 2016 Grammys.
The singer's rep confirmed in a statement to E! News, saying, "Based on Rihanna's examination, after Grammy rehearsal today, Rihanna's doctor put her on vocal rest for 48-hours because she was at risk of hemorrhaging her vocal chords. The antibiotics she has been on for 3-days did not kill the infection adequately therefore she cannot perform safely."
The 27-year-old made it to rehearsals but left and did not walk the red carpet.
She was scheduled to be introduced by late-night host James Corden and perform "Kiss It Better" early in the show but her slot was skipped.
It was the second time Rihanna missed a scheduled Grammy performance. In 2009 she canceled after then-boyfriend Chris Brown had beaten her the night before the show.
Rihanna attended MusiCares this weekend honoring Lionel Richie and performed his hit "Say You, Say Me." She had been on antibiotics ahead of the show but her publicist says her doctor concluded her condition hadn't improved enough by Monday night.
Rihanna also presented her Fenty x Puma collection during NYFW on Saturday. "Rihanna had a very strong idea; she was like, 'I just want to see white. I want it to feel like frozen,'" Yusef Williams, the show's head hairstylist, said to E! News about the show. The models, including Gigi Hadid, had the front of their hair slicked back and painted in an icy white color. The models also sported a chic black lip.
Copyright E! Online