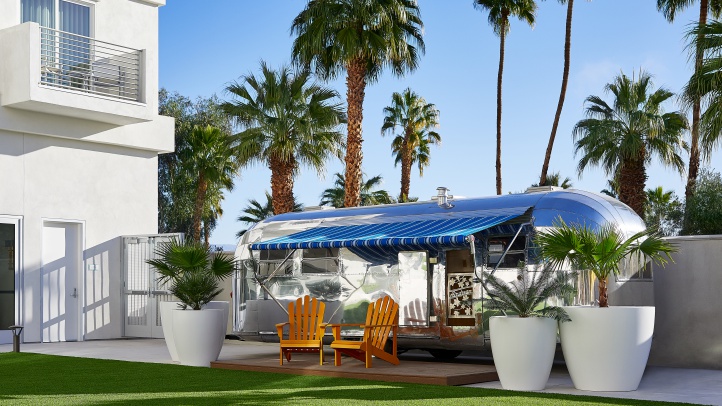 ZIPPING PAST AN AIRSTREAM... on the highway? You'll likely halt your zipping and steady your vehicle to a slower pace. For you'll crave a few extra seconds to admire the iconic trailer that's in the next lane, and its beautiful design, before the driver pulling the Airstream turns in one direction and you proceed in yours. And while we are fortunate enough to come across the occasional Airstream out on the roads, or in a neighbor's driveway, finding one where we can spend the night, and enjoy that old-school but updated Airstream-esque experience, is something far rarer. But such a chance has arisen in the desert resorts, at the brand-new...
HOTEL PASEO, "the first newly constructed luxury hotel in Palm Desert." For not only are there more traditional hotel rooms at the property, but a completely restored 1950 Airstream Cruiser. That's right: You can reserve a stay in this beauty, which sits on the grounds of the stylish property. But the Airstream love is going even further come the first day of December 2018, when the hotel throws a full-on Airstream Palooza as a way to gather fans of the travel trailer, and to celebrate its own retro-tastic Airstream, and, most importantly, to raise funds for the Family YMCA of the Desert.
ENTRY IS FREE... to the party, which includes a music festival featuring Pablo Cruise and other rocking acts, and donations to the YMCA will hail from sponsors. There will also be an Airstream show, with more old-school travel trailers to admire. Stays in the Airstream Cruiser at Hotel Paseo will begin on New Year's Day, 2019, but there's giveaway afoot, through Nov. 27, which involves possibly winning two nights in the offbeat and elegant destination. Bonus? "All entries get 25% off their next stay at Hotel Paseo." Read the details now.
Copyright FREEL - NBC Local Media