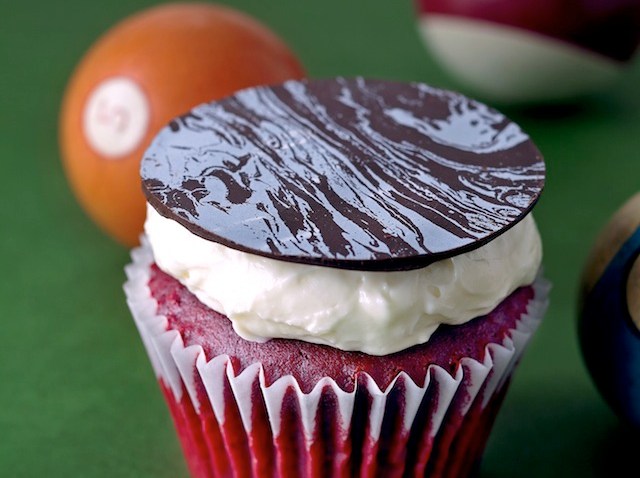 If you're looking for cute cupcakes, you won't find them at Butch Bakery. Former attorney turned cupcake businessman David Arrick started Butch Bakery to cater to, simply put, dudes who like cupcakes. You won't find pink sprinkles, flowers or frill on these man cakes. David has brought the "masculine aesthetic" and unique ingredients to the traditionally cutesy cake. Pictured here is the Jack Daniel's Rush, a red velvet cupcake with Jack Daniel's cream cheese frosting. Who needs a shot when Check out "The Butch Bakery Cookbook" for more Butch cupcakes (available now). We talk to the man behind these inventive flavors.

What makes a manly cupcake?
Bold and nontraditional flavors

What's the most unique cupcake creation you've concocted?
It's a toss up between mixing chocolate with bacon and adding cayenne pepper to the red velvet cupcakes.

What's the process like before you finalize a cupcake recipe?
Taste, invite friends over to taste with me, open some beer, taste some more.... and on and on until the recipes are perfected. My buddies enjoy my job as much as I do!

Any other interesting creations that are in the works right now?
Yes, but it's all under lock and key!

What's your favorite cupcake?
Vanilla cupcake with avocado buttercream

What's the most unique dessert you've ever eaten?
Chocolate covered crickets in Thailand!

If you weren't making cupcakes, what would you be doing?
Playing for the New York Yankees

Any plans to expand Butch Bakery?
Yes, we are looking at space to open in NYC, L.A, and Chicago. Now that the book is out there and selling so well, we are confident that there is a definite need for our products everywhere!

Tune in to our "unique desserts" episode of 1st Look this Saturday after Saturday Night Live on NBC.
Copyright LXTVN - LXTV