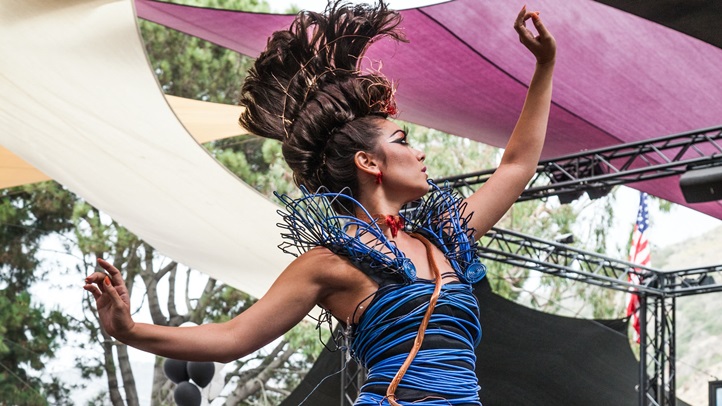 IT'S NOT ALL THAT UNUSUAL... for a follower of fashion trends to spy a frock and think "hmm, I think I've seen that collar or belt somewhere before." Typically, though, the observer is trying to place the trend, or an earlier designer, who may have also used a similar shape or hue or cut. But that's not the couture-themed case at the annual fashion show that struts at the Festival of Arts in Laguna Beach each August. If a fashion fan thinks "hmm, I think I've seen that collar before" they're remembering the time they used a coffee filter to make a pot of java or the can of beer they had last month. Because the runway model's collar may very well be made out of paper coffee filters or aluminum cans or old wire or a disregarded lampshade or any number of items that typically get tossed out. Those are the offbeat and alluring hallmarks of the Runway Fashion Show, which puts the emphasis on beautiful garments made out of traditionally recyclable materials. The models, decked out in gowns created by visionary designers, will once again strike a pose on the afternoon of Saturday, Aug. 15.
IT'S YEAR SEVEN... for the show and there are four competition categories in all. Designers'll go for the top spot in Most Creative Concept, Most Glamorous & Elegant Red Carpet-Worthy Creation, Most Innovative Use of Materials, and Most Exciting Ensemble, and several celebrity judges, including fashion legend Cristina Ferrare, will make the ultimate call. Some of the get-ups may seem like standard fabric at first glance, but, upon a lean-in look, you're bound to see details and lines that reveal particular elements in the outfit hail from the recycle bin or a home's junk drawer. It's pretty heady stuff, and it works on two different fronts. The fashion front, of course, as the clothing is quite striking and covetable, but on the eco-nice front as well. Think of this annual show, which falls towards the end of the annual Festival of Arts calendar, as a visual reminder that things around the house, and in our lives, can achieve an excellent and creative and surprising second life. These pretty gowns prove it.
WANT TO ATTEND... the haute happening, which is hosted by model Melissa Biggs? Find info here. Want to see the Festival of Arts before it bids adieu for another year? Get to Laguna Beach by Aug. 31.
Copyright FREEL - NBC Local Media