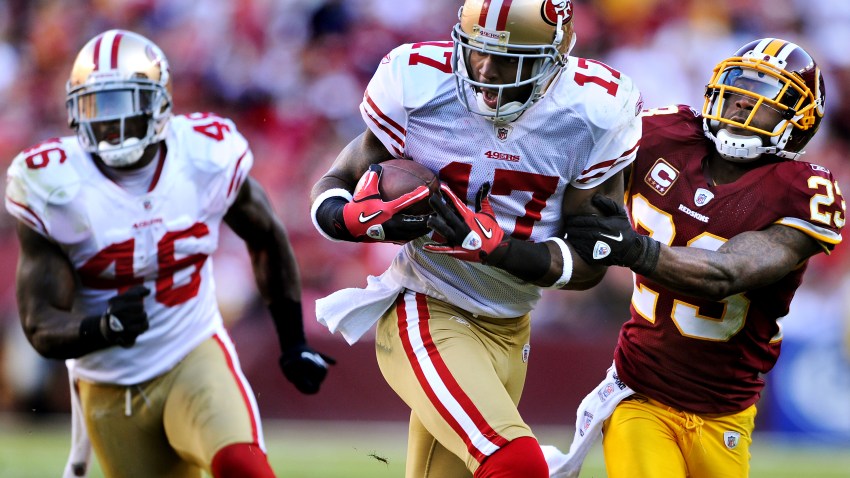 The 49ers' listed opponent Sunday is the Cardinals, but it would be hard to blame San Francisco's players for focusing more on themselves this week than the team in Arizona.
Specifically on a hamstring, a shoulder and a couple of knees.
Having wrapped up the NFC West championship with a win over the Rams last week, the Niners (10-2) now know they need to get their best players back on the field in time for the playoffs – while still trying to earn the NFC's No. 2 seed over the final four games.
So, there is linebacker Patrick Willis' strained hamstring to consider, as well as cornerback Carlos Rogers' knee and the sore shoulder and knee of wide receiver Braylon Edwards.
Willis, the All-Pro inside linebacker who had to leave Sunday's game against the Rams because of what's been reported as a Grade 2 strain of his right hamstring, did not practice Wednesday, and is likely not to play against Arizona, though the team officially hasn't said that. The San Francisco Chronicle's Eric Branch reported that Oakland orthopedic surgeon David Chang, asked to comment about such a strain, says such an injury would require three to six weeks recovery. Chang, who works with the U.S. national soccer team, told Branch such injuries can be "frustrating" because of the possibility for re-injury.
With Willis out, Larry Grant would be in. Against the Rams, Grant played well, recording a sack and six tackles vs. St. Louis in a little more than three quarters.
Also missing practice Wednesday was Rogers, who incurred a slight knee injury vs. the Rams but didn't come out of the game. It was reported Rogers possibly was given Wednesday as a rest day. Rogers has started every game this season and is fourth in the NFL with five interceptions.
Edwards, who missed the Rams game because of knee and shoulder soreness, was back at practice Wednesday, and said he's good to go for the rest of the season.
The return of Edwards is good news for the 49ers offense. With the emergence of Kyle Williams in recent weeks, Edwards gives quarterback Alex Smith another experienced target at wide receiver, along with Michael Crabtree and Ted Ginn Jr.
Edwards says he can be particularly effective in the red zone because of his 6-foot-3, 214-pound frame. The Niners have had difficulty converting red-zone possessions into TDs this season, with only 16 TDs in 42 trips inside the 20-yard line.
"In the red zone, I'm one of the bigger wide receivers so it's always a fun area," Edwards told Cam Inman of the Bay Area News Group.