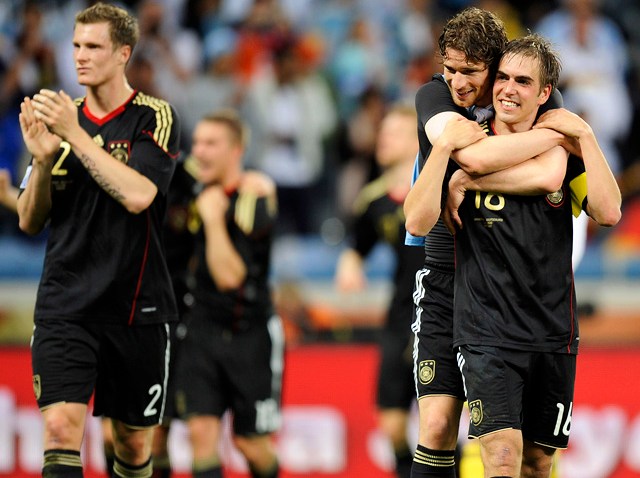 Germany sends Argentina home in the quarterfinals of the World Cup on Saturday with a crushing 4-0 victory.
Germany's spacing, pace and stingy defense made the Argentines look out of sorts all afternoon. Argentina didn't get their first shot on goal until the 33rd minute, and any time they appeared on the verge of making something happen, the German defense shut it down.
Miroslav Klose scored twice to move into a tie for second on the all-time World Cup scoring list. The dominant display - along with Germany's two other four-goal games - should demand the attention of everyone still playing in South Africa.
"It was absolute class," Germany coach Joachim Loew said.
Hard to argue with that.
Argentina had been one of the tournament's darlings, with coach Diego Maradona's every move causing a stir and superstar Lionel Messi showing you don't need to score to be sublime. The Argentines rolled into the quarterfinals as one of only two teams to win all its games - the Netherlands was the other - and had been so powerful they never trailed.
No wonder a star-studded crowd was on hand at Green Point Stadium, with German chancellor Angela Merkel, Mick Jagger, Leonardo DiCaprio and South Africa's own Charlize Theron were all spotted in the VIP seats.
But Germany overwhelmed the Argentines, and shut down Messi in the process.
The reigning FIFA world player of the year leaves South Africa without a goal, and was in tears after the game. Maradona walked slowly to midfield with his hands jammed in his pockets when the game ended, and couldn't muster any energy or enthusiasm at his news conference.
"Are you joking?" Maradona said when asked if he was satisfied with his team's performance. "This is a country where you live and breathe football. I don't think that any will be happy when the team loses 4-0."
It was enough to make Maradona clutch his fists in agony, looking as if he was physically pained. The sight of the German offense couldn't have made him any happier.
"To lose like that is very painful," forward Carlos Tevez said. "We played badly and sometimes when you make mistakes you go home."
Germany will play the winner of Paraguay-Spain in the semifinals Wednesday in Durban. This will be Germany's third straight trip to the semis and its 12th overall - nobody has more. But the three-time champions haven't won a title since 1990.
Maybe that's why their celebration was so low-key - the Germans are hoping for something bigger in a week. Players hugged and high-fived each other before walking around the edge of the field to salute the crowd.
"It's important that we should not emotionally overreact," Loew said.
There was no such restraint from the fans. Several hundred stuck around Green Point Stadium for more than a half-hour after the game, dancing, singing and banging on drums.
Copyright AP - Associated Press