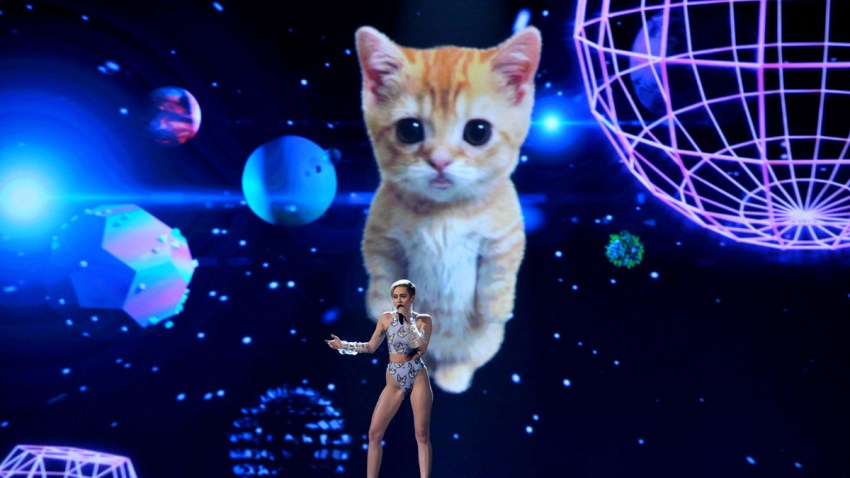 Miley Cyrus gave one of her more subdued performances during the 2013 American Music Awards.
The belated birthday girl belted "Wrecking Ball" while a digital cat sang along on the screen behind her.
But in case viewers weren't distracted enough by the lip-synching feline, Miley definitely didn't disappoint with her outfit.
The "We Can't Stop" singer wore a cat-print two-piece leotard that showed off, well, almost everything.
In what has quickly become her signature fashion, Miley opted for extremely high-cut bottoms that gave Smilers (and millions of people everywhere) a glimpse at her bod.
But don't get too startled. The ensemble wasn't that much different than the one that she wore during her MTV EMAs performance.
NEWS: Lady Gaga arrives at the 2013 AMAs on a white horse!
And if you could get past the revealing attire, the former Disney darling paired the skin-tight duds with massive (we're talking massive) lucite bangles and square-shaped earrings.
About midway through the ballad, the cat went from blissful to grumpy and began crying against a black backdrop.
Side bar: whoever was filming Miley made sure to keep their cameras just above waistline. Were they just trying to avoid anything potentially inappropriate perhaps? It's quite possible.
Either way, the cat and Miley sang their hearts out and ended the awards show on a high (or somber) note.
PHOTOS: Check out the 2013 American Music Awards red carpet arrivals!
Copyright E! Online