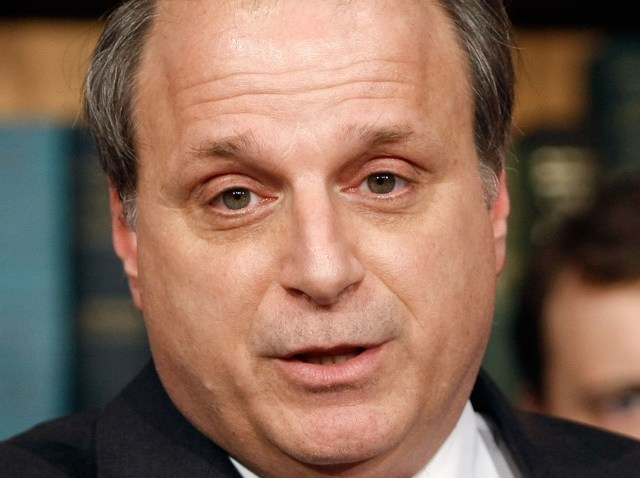 Eric Massa got a rare, but dubious honor over the weekend: He was the sorry subject of two "Saturday Night Live" segments on the same show.

He earned it.

The former upstate New York congressman – whose bizarre tales of "tickle parties" with underlings and "snorkeling" Navy buddies offered the cable news shows a week's worth of material – also has given TV comedians an easy target.
"Four o'clock – gropin' time," made David Letterman's list of Top Ten Things You Don't Want to Hear From Your Congressman.

The comedy gods certainly have provided ample and bipartisan scandal fodder in recent years, with the travails of former New York Gov. Eliot Spitzer, South Carolina Gov. Mark Sanford, former Democratic vice presidential nominee John Edwards, ex-Florida Rep. Mark Foley and former Idaho Sen. Larry Craig, among others.

The case of Massa, a Republican-turned-Democrat, stands out in that he's a laughingstock who seems to revel in his own absurdity. He stubbornly defended his odd proclivities – and revealed new ones – in bizarre performances last week on "Larry King Live" and "The Glenn Beck Show."

Not everybody is laughing. The Republicans want answers. Conservative commentator George Will cited the Massa case as more evidence that Washington is "terminally weird." Outgoing Rep. Patrick Kennedy (D-Rhode Island) slammed the press as "despicable" for focusing on Massa instead of weightier issues.

Massa has proven himself a bipartisan buffoon – nobody on either side of the political aisle wants anything to do with him. But the comics are happy to have him.

Jimmy Fallon mounted a mashup of Massa's "Larry King Live" stint: "Look, Larry," said Fallon as Massa, "I was elected to represent the people of New York. What was I supposed to do – not grope anyone?"

Stephen Colbert lampooned Massa's interview with Beck, on "The Colbert Report" and even on Twitter: "eric massa appeared so crazy on his segment with glenn beck, that fox gave him his own show," Colbert tweeted.

Jon Stewart, Colbert's Comedy Central colleague in fake news, also took a shot at Beck who quickly went from lionizing rogue Democrat Massa to telling his audience, "I have wasted an hour of your time and I apologize for that." Stewart suggested those words should be Beck's new sign-off.

"SNL" got in the final jabs of the week. The show's opening featured Bobby Moynihan as Massa describing, in randy flashbacks, doing "normal guy stuff" in the House and while in the Navy. "You say 'tickle party' and I say 'tickle par-tay,'" Moynihan/Massa declares.

On "Weekend Update," Seth Meyers was joined by surprise guest Jerry Seinfeld for the show's "Really!?!" bit – a sarcasm-filled segment built for the sense of disbelief the Massa episode inspires. Citing Massa's strange behavior, Meyers noted the former lawmaker topped "it off by being the crazy one on 'The Glenn Beck Show.'"

Seinfeld hilariously invoked the disgraced pol's name in a play on words based on an act of self-gratification.

The Massa mess, at least for the comedians, has turned into one big tickle party. Check out the videos below for some of the humor spurred by a brief career in Congress that will live on in laughter:

Hester is founding director of the award-winning, multi-media NYCity News Service at the City University of New York Graduate School of Journalism. He is the former City Editor of the New York Daily News, where he started as a reporter in 1992. Follow him on Twitter.
Copyright FREEL - NBC Local Media