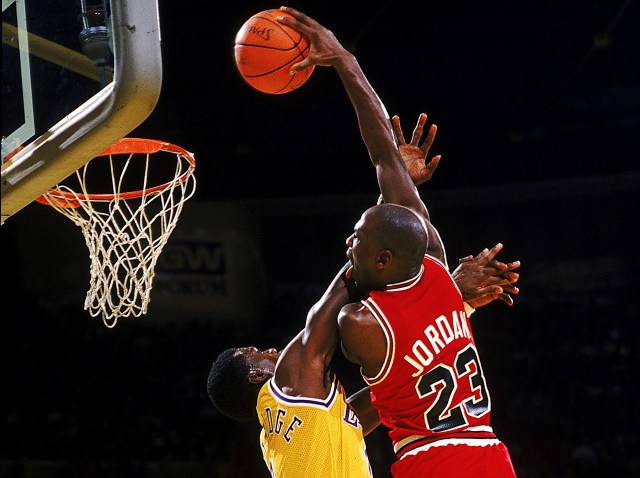 DAPHNE, Ala. - Earvin "Magic" Johnson, a basketball legend in his own right, leaves little doubt about his selection for the best player of all-time. "There's Michael Jordan, and then there is the rest of us," Johnson once said.
Voters in the United States Sports Academy's contest to name its "Mr. Basketball" sculpture agree. In overwhelming fashion, much like the way Jordan lifted six Chicago Bulls teams to NBA titles, voters chose Jordan in the Academy's search for the greatest basketball player of all-time.
Jordan was the clear winner on a worldwide ballot that included 15 of the NBA's best all-time players, active and retired. Finishing second on the list was Celtics center Bill Russell, a defensive force who won a staggering 11 NBA championships. Center Wilt Chamberlain, who once scored 100 points in a single NBA game, was third in the voting, which was done with the assistance of NBCSports.com and USA Today.
The Academy's "Mr. Basketball" sculpture, designed by found object artist Bruce Larsen of Fairhope, Alabama, will be dedicated in Jordan's name Jan. 22 at the USSA campus.
Jordan's list of accomplishments is mind-boggling: five most valuable player awards; 10 first-team All-NBA honors; nine-time All-NBA defensive team; 14-time All-Star, three-time All-Star Game MVP; two-time Olympic gold medalist; and tied with Chamberlain for the all-time NBA career per-game scoring average (30.1).
His impact on the game globally may eclipse his on-court feats. Through his graceful dunks and his Nike "Air Jordan" brand, Jordan transcended sports and played the lead role in taking basketball from mostly an American audience to a worldwide stage.
Jordan's third and final retirement came after the 2002-03 season as a member of the Washington Wizards, after he initially took on a role as partial owner and team executive. He showed moments of the greatness from his Bulls' days, when he scored 40 points in a game a few days after turning 40.
Even to this day, as Jordan's connection to the NBA has moved from the court to the executive office, where he is currently an executive with the Charlotte Bobcats, Jordan's popularity hasn't waned. A 2008 Sports Business Journal report said only golfer Tiger Woods ranked with Jordan in terms of popularity among American athletes.
Copyright MSNBC - MSNBC