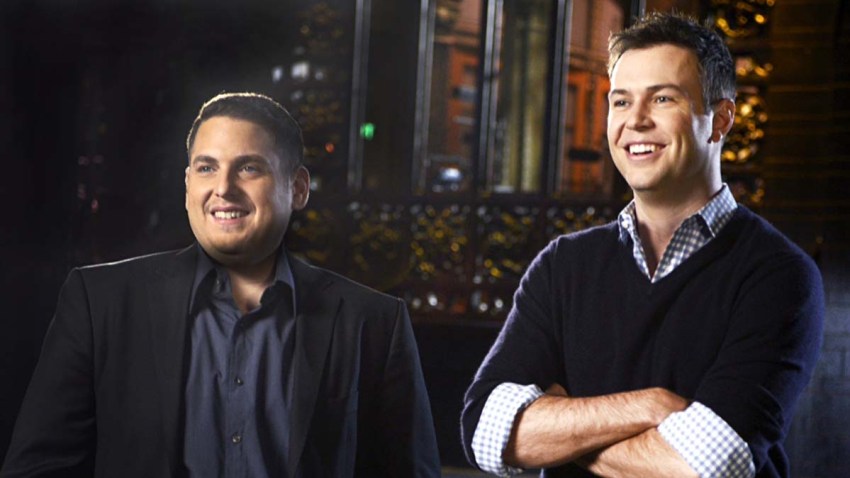 May as well stick to what works.
Jonah Hill, who caused quite a stir when he revealed that he pocketed the SAG minimum for his now Oscar-nominated performance in "The Wolf of Wall Street," brought some of his bad-boy, Scorsese-film ways with him to the "Saturday Night Live" set this week.
Or he at least brought them to these fun new promos touting his hosting gig, with musical guest Bastille. (Well, not the one in which he shows off his adorable charm bracelet, complete with a dangling corgi, but we digress.)
In one, "SNL" player Taran Killam compliments Hill on "Wolf" and notes that he used the F-word "quite a bit."
PHOTOS: Prominent "SNL" alumni
"Yeah, well, it's a Scorsese film, so it comes with the territory," Hill nods.
"Just remember you can't say that on our show," Killam warns him, throwing the actor for a loop.
"That may be a problem," Hill admits. "I better get 'em all out now."
His one F-bomb then turns into quite the blue streak. "You may want to sit down, it may take a while," Hill advises.
In another teaser, Killam congratulates Hill on his Oscar nomination, which the actor--whose inflated ego is the stuff of "This Is the End" mock-legend--interprets as an autograph request.
"Where should I sign?" he asks, lunging for Killam's chest with a marker.
Hill then figures Killam would love to have a signature on his tongue, so that's where his marker heads to next--but Killam actually has a special request.
"Don't wash that tongue, it'll be worth a few bucks," Hill reminded him, content in his benevolence.
Watch all of Hill's "SNL" promos right above!
(E! Online is a member of the NBCUniversal family.)
Copyright E! Online