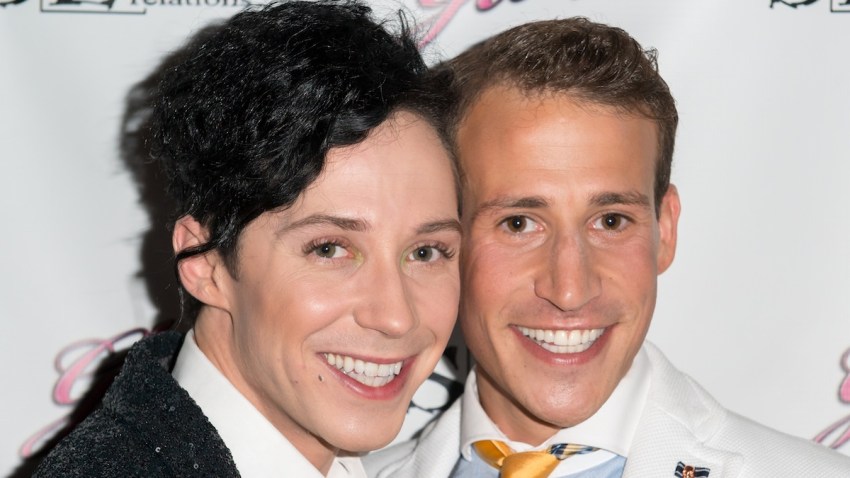 It's not a golden day for Johnny Weir.
The Olympic figure skater turned fashion icon and broadcast darling revealed today that he and husband Victor Voronov have split up after two years of marriage.
"It is with great sadness that I announce that my husband and I are no longer together. My heart hurts, and I wish him well," Weir tweeted Wednesday.
The 29-year-old briefly foreshadowed the bad news to come earlier this morning, tweeting-then-deleting, "A sad announcement is coming soon, and the only people I wish to speak with are @TheEllenShow and @Oprah."
"My client is shocked by the abrupt ending of his marriage and is dealing with the trauma he endured during the marriage, including multiple things he's just now becoming aware of," Wendy Feldman, legal crisis manager for Voronov, said in a statement to E! News.
We have a feeling a discussion with at least one of those sage ladies will be forthcoming.
Weir and Voronov, a lawyer, tied the knot in a New York civil ceremony on Dec. 31, 2011. Weir added his husband's last name as a hyphenate, though he continued to skate and work professionally with his usual surname.
PHOTOS: Big celebrity breakups
There was a major sign of trouble in paradise when Radar reported earlier this month that the couple had been in a New Jersey courtroom to jointly request that a domestic violence charge against Weir—who was accused of biting his husband during an altercation—be dropped.
"It is a private matter I do not wish to discuss," Weir said at the time.The breakup comes on the heels of the major splash Weir made at the Sochi Olympics, where he and fellow skater Tara Lipinski became known for their massive wardrobes and witty banter.
And Weir isn't letting separation anxiety get in the way of his devotion to style: He Instagrammed a full-length selife just hours ago describing today's ensemble.
"Today's Look: Poncho Rève de Bijoux, Undershirt Wilt, Jeans @JBrandJeans, Shoes Isabel Marant," he catalogued his look.
Copyright E! Online