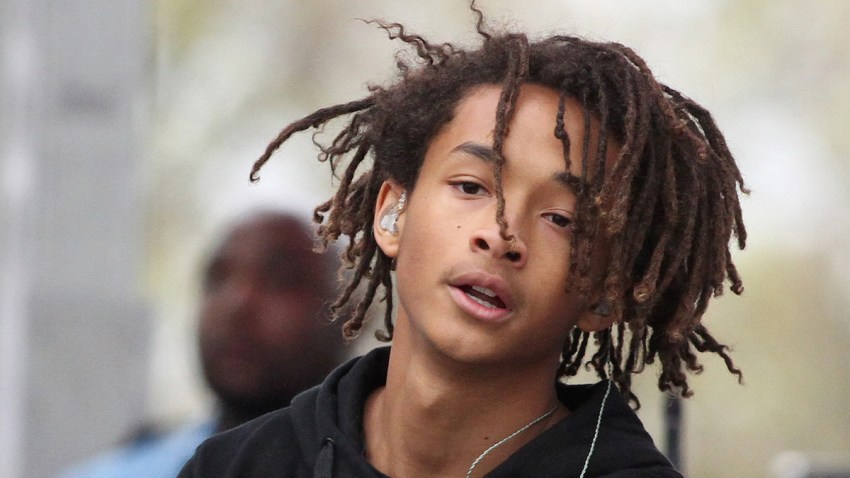 "My style icons are Batman, Robin, Nightwing, Superman and Kanye West."
So says Jaden Smith, who is included in GQ's list of the "20 Most Stylish Men Alive."
Perhaps his answer isn't all that surprising, given that Smith wore a white Batsuit to West's wedding to Kim Kardashian in May 2014 (and again to prom in 2015). Speaking of the two events, why did the 16-year-old "After Earth" actor choose to dress like a superhero? "I wore the Batman suit to heighten my experience at the wedding and prom which was fun, but also at the wedding I felt as though I needed to protect everyone there and needed to have the proper gear to do so," he says.
What he needed to protect them from, he didn't say.
Smith doesn't always dress like the caped crusader, of course.
"I'm just expressing how I feel inside, which is really no particular way because everyday it changes how I feel about the world and myself," he says of his style philosophy. "I like wearing super drapey things so I can feel as though I'm a superhero, but don't have to necessarily wear super hero costumes everyday."
PHOTOS: Kim Kardashian and Kanye West's wedding, as seen on Instagram
That said, he's been dressing differently than his peers for as long as he can remember. Recalling the first outfit he ever put together, Smith tells GQ, "I remember these duck boots. They were just duck boots, but I would wear the normal Batman suit or my Spider-Man suit with them and never take them off."
He insists that today's looks aren't as contrived as they might seem.
"First I roll over on the bed I built for myself and look at the ground," he says of getting dressed each day. "If there are clothes I wore from the previous day and they're not too dirty, that's what I put on."
In addition to Smith and West, the 18 other famous faces profiled in GQ's "20 Most Stylish Men Alive" issue are Mario Balotelli, David Beckham, Bradley Cooper, Daniel Craig, Jeff Goldblum, Ryan Gosling, LeBron James, Jay Z, Jared Leto, John Mayer, Brad Pitt, Eddie Redmayne, A$AP Rocky, Cristiano Ronaldo, Mark Ronson, One Direction's Harry Styles, Russell Westbrook and Pharrell Williams.
PHOTOS: The Soup's alternative headlines for Jaden Smith, the white Batman
Copyright E! Online