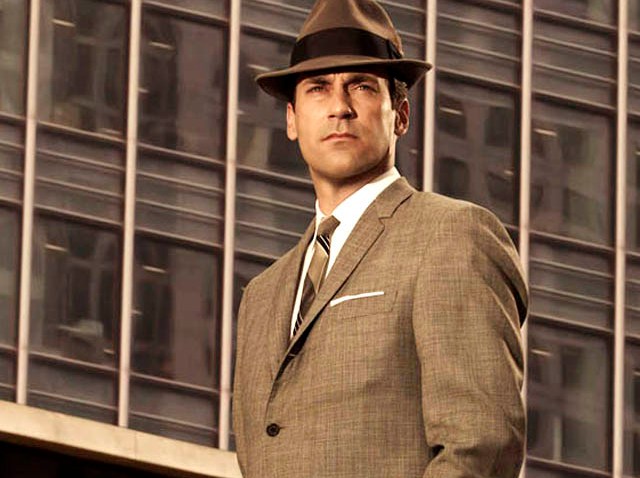 For most of the first three seasons of AMC's "Mad Men," adman Don Draper exerted near total control over his world, if not always over his appetites.

It seemed like a preternatural force somehow kept everything going in his favor, even if undeservedly at times.

But in last week's episode – maybe the best yet from the strongest TV drama since the hey-day of "The Sopranos" – when he tells his wife Betty after the Kennedy assassination, "Everything's going to be fine," you don't believe him.

More importantly, neither does she – setting the stage for this Sunday's season finale.

This season has centered on loss and the unraveling of the kind of American Dream-like illusions that Draper peddles in the advertisements he concocts at Sterling Cooper.

Closeted art director Salvatore Romano lost his job, indirectly because of his sexuality, just as he's about to hit it big as a TV commercial creator. Overly ambitious account manager Pete Campbell, who tried to use his father's death in a plane crash to gain business, loses out on the promotion he's schemed for and becomes disillusioned with the rat race.

Draper loses the secret of his past – uncovered by Betty in a box of mementos – tearing through the proverbial gray flannel suit that's both his costume and armor.

It's Betty who experiences perhaps the most profound loss and change. After her father dies, she sheds the girlish sing-song voice that was the soundtrack of her proto-Stepford wife existence. She's empowered by her discovery that her marriage is built on a lie – and by her increasingly dangerous flirtation with an older, suave aide to Gov. Rockefeller who wants to marry her even as he pushes Rocky's presidential aspiration in a post-JFK world.

Suddenly, she's a woman in control, delivering the series' most devastating line to Don – "I don't love you" – in a moment of realization, calculation and liberation.

Meanwhile, secretary-turned-copywriter Peggy Olson, whose love-child secret mirrors the clandestine past of Draper, her mentor in advertising and denial, may be set for some changes of her own. She's having an odd affair with former Sterling Cooper rainmaker Duck Phillips, who got her into bed and is trying to woo her to his new firm.

Peggy hasn't figured into this season quite as much as in the past. Maybe her moment will come Sunday – Matthew Weiner's brilliant drama, after all, is full of surprises.

The only clues about the finale come from AMC's website: the intriguing title of the show – "Shut the Door. Have a Seat" – and the rather mundane description: "Don has an important meeting with Connie. Betty receives some advice. Pete talks to his clients."

"Mad Men," thankfully, will be returning for a fourth season – ostensibly in 1964 when the world will begin to change in ways that Don Draper could never have imagined and certainly won't be able to control.

Hester is founding director of the award-winning, multi-media NYCity News Service at the City University of New York Graduate School of Journalism. He is the former City Editor of the New York Daily News, where he started as a reporter in 1992. Follow him on Twitter.
Copyright FREEL - NBC Local Media