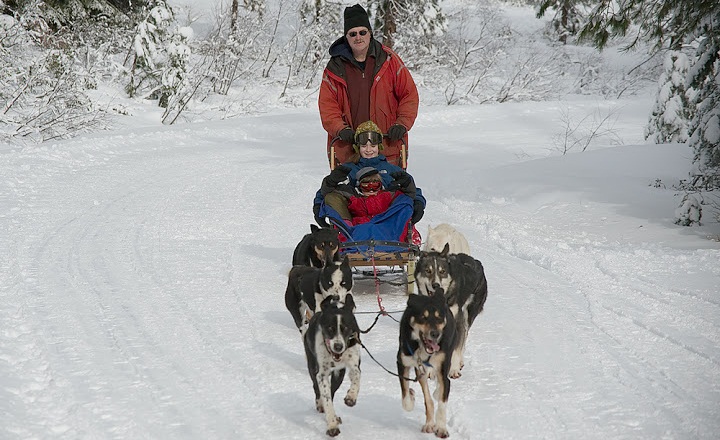 WOOFING IN WINTERTIME: Through books, movies, and popular lore, the dogsled team has become very much the province of Alaska. Or, perhaps Montana and Colorado, too, what with the Rockies and all, but a bunch of energetic pups pulling a couple of people over frozen ground isn't an idea much associated with the Golden State (perhaps because sunshine is in our very nickname). But we do have some excellent pup-driven sledding around California, including near Mount Shasta, which, as you might expect, enjoys a rather spectacular cold season. Teams of dogs lead 8.4-mile tours around some of the prettiest parts of the Shasta Cascade. Naturally, there's a musher in the house, calling commands to the excited hounds.
DOGSLED EXPRESS GUIDED TOURS: The company has been mushing for well over two decades and has enjoyed a mix of tours and racing. You can reserve a spot on a sled through February, though days and times will vary. But, worth noting? Both adults and kids are welcome (grown-up tickets are $95 each, kid tickets are $55). We'd also recommend looking in advance to the next holiday season, when a lot of tours are on the books and families make for Shasta to celebrate.
SKIING IN SHASTA, TOO: Where there is gorgeous snowy terrain for dogs to run, there are often snowflake-covered slopes, too. Such is the case with the Mt. Shasta Ski Park, which has 32 runs in all.
Copyright FREEL - NBC Local Media