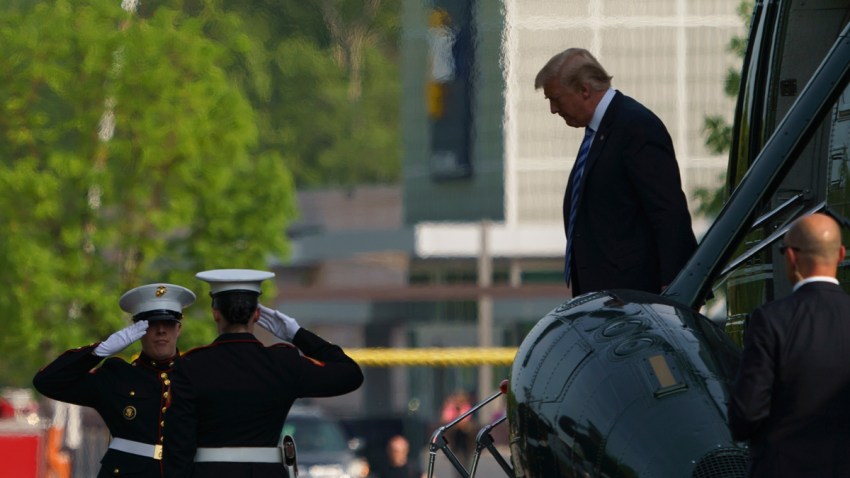 President Donald Trump visited his wife, Melania, in the hospital Tuesday as she continues to recover from a kidney procedure.
Trump said earlier Tuesday that the first lady is "doing really well" and that he expected her back at the White House before the end of the week. He arrived by helicopter at Walter Reed National Military Medical Center outside Washington on Tuesday afternoon and stayed for about 90 minutes before returning to the White House. He also visited Monday after doctors performed the "embolization" procedure.
"Melania is doing really well. She's watching us right now," Trump said Tuesday as he spoke near the Capitol at an annual tribute to law enforcement officers killed in the line of duty.
"And I want to thank the incredible doctors," Trump added. "They did a fantastic job."
At the Capitol later, where he joined Republican senators at their weekly lunch, Trump reiterated that his wife is "really doing well."
Trump joked at lunch that support for the first lady was so high that he had her promise she wouldn't run against him, said a person familiar with the discussion but not authorized to discuss a private conversation. Trump also joked that his 48-year-old wife should be the one visiting him in the hospital and not the other way around, a senator said. The president turns 72 next month.
Trump tweeted Tuesday that his wife "will be leaving hospital in 2 or 3 days." Her spokeswoman had said in a statement Monday that the first lady was likely to remain hospitalized for "the duration of the week."
The White House said the procedure was "successful" but withheld details of the first lady's condition, citing her privacy.
Two urologists who have no personal knowledge of Mrs. Trump's condition said the most likely explanation for the embolization procedure is a type of noncancerous kidney tumor called an angiomyolipoma.
They're not common but tend to occur in middle-aged women and can cause problematic bleeding if they become large enough, said Dr. Keith Kowalczyk of MedStar Georgetown University Hospital. Mrs. Trump is 48.
The "treatment of choice" is to cut off the blood supply to shrink the growth, said Dr. Lambros Stamatakis of MedStar Washington Hospital Center. Doctors do that with an embolization — snaking a catheter into the blood vessels of the kidney to find the right one and block it.
Most of the time, these benign tumors are found when people undergo medical scans for another reason, but sometimes people have pain or other symptoms, Kowalczyk said. Many times, embolization patients go home the same day or the next.
The first lady was last seen in public at a White House event Wednesday where she and the president honored military mothers and spouses for Mother's Day. She later accompanied Trump to Joint Base Andrews in Maryland to welcome home three Americans who had been released from detention in North Korea.
The Slovenia-born former model married Trump in 2005. They have a 12-year-old son, Barron.
Mrs. Trump, who has been raising her profile as first lady, recently hosted a state dinner — her first — for the president of France. She also launched a public awareness campaign called "Be Best" to help teach kindness to children as the president sat in the audience in the Rose Garden.
The first lady joined her husband last month to host Japan's prime minister for a two-day summit at the Trumps' Florida estate, and the Trumps hosted France's president at the White House on a three-day state visit, including the lavish state dinner. Mrs. Trump also represented the administration at the April funeral of former first lady Barbara Bush.
The Trumps' marriage has come under scrutiny in recent months after revelations that a porn actress was paid $130,000 to keep quiet about claims she had sex with Trump in 2006. Trump has acknowledged reimbursing his lawyer for the payment to Stormy Daniels but denies her allegations. Separately, a former Playboy model has revived her allegations of a 10-month affair with Trump, also in 2006. Trump also denies the allegations from Karen McDougal.
Mrs. Trump has, at times, been noticeably absent from her husband's side, though both made a point of displaying affection in the Rose Garden last week.
The first lady lived full time in New York during the administration's opening months so Barron would not have to change schools midyear. She and Barron moved to the White House last June.
AP Medical Writer Lauran Neergaard and Associated Press writer Jill Colvin contributed to this report.
Copyright AP - Associated Press