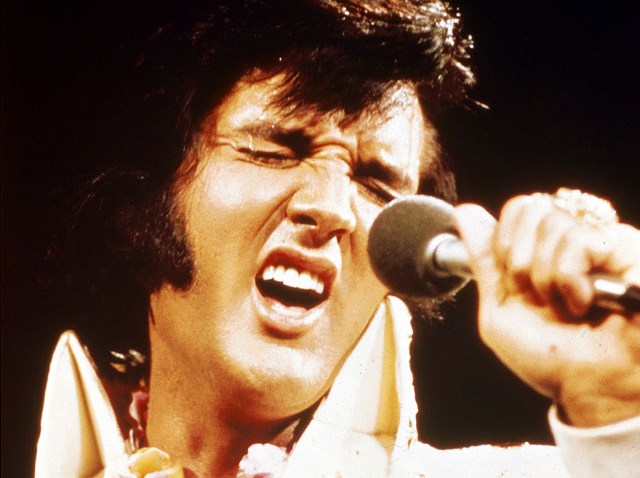 The King's been gone for a third of a century.
Elvis Presley died on this date in 1977 in his Graceland mansion, a somber event that thousands of his loyal fans marked early Monday with a candlelight vigil in Memphis. The annual gathering began the year after Presley's death in the Memphis mansion Aug. 16, 1977.
"This vigil is kind of like for Elvis, and kind of like for her, too," Thomas Hollis, 52, of Louisville, Ky., told The Associated Press. "It's rough this year … I've been through down times myself for a while, but I listen to his music and it keeps me going."
As fans passed through the estate's gates, bands played Presley ballads, like "If I Can Dream" and "Fools Rush In." Later, fans walked by Presley's grave and held an overnight candlelight vigil.
Born Jan. 8, 1935 in Tupelo, Mississippi, Presley's family moved to Memphis when he was 13. He failed in several auditions for local bands before an impromptu version of the blues standard "That's Alright" was recorded by legendary Sun Records boss SPhillips and became a local hit. Over the next decades, he became the biggest selling singer in history, with a estimated worldwide sales of more than 1 billion records.
Shelley Somerville flew from Australia with her husband for their honeymoon. She told the AP it was her third candlelight vigil for The King, whose gospel music she enjoys most.
"Elvis has touched a lot of hearts, and there's something spiritual about him," said Somerville, a 31 year-old administrative assistant. "There's a calming feeling around him."
Selected Reading: Elvis.com, The Commercial Appeal, The Associated Press.