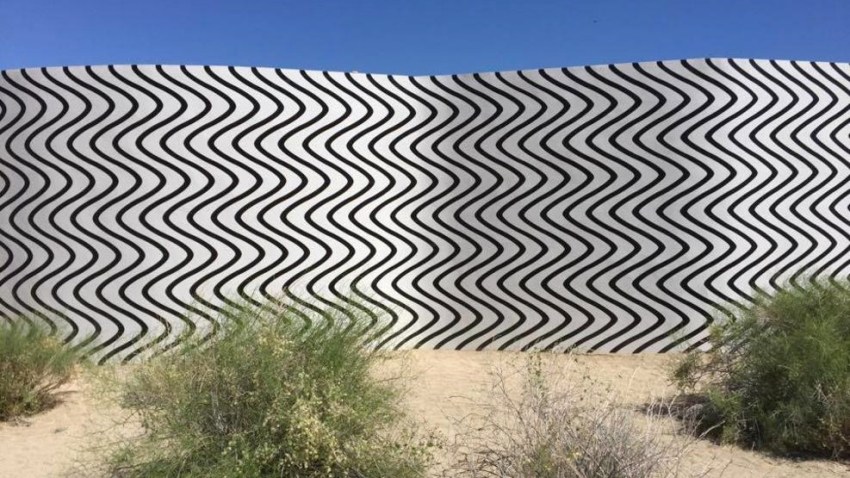 SAUNTER INTO THE DESERT, a good long distance, then pause, still your mind, and gaze around. What do you see? That depends on the desert you're in, of course, but you might spy sagebrush, or chollas, or unusual rock formations, and even the occasional jackrabbit or tortoise. What you probably won't encounter is a large-scale art installation, such as a house covered in mirrors, inside and out, or a giant, fantastically curvy wall filled with zigzags that deliver optical-illusion-y pleasures. Of course, if you're venturing into the sublime desert of the Coachella Valley, during Desert X, you might encounter such wonders, and many more, too. For the biennial...
"SITE-SPECIFIC EXHIBITION"... has become widely known for inviting some of the most exciting artists around to create surprising, surreal, thought-provoking, and ultimately temporary works that will complement and/or challenge an arid, space-rich desert setting. Of course, not every work seen at the 2017 Desert X appeared in the desert — some were found just off busy streets in the valley's resort cities — but the overall impact was profound: You're in a landscape that isn't simply a blank canvas for a big art idea, but rather a canvas that comes with its own scrubby, ancient, and marvelous sense of the mystic. The resulting pair-up proved quite intoxicating.
DESERT X, in its second outing, will open on Saturday, Feb. 9, 2019, and run through to Sunday, April 21. For sure, it will coincide with the Coachella Music and Arts Festival, and with Modernism Week, too, two of the biggest Coachella Valley/Palm Springs happenings on the calendar. But you can head out at any point during those dates, weekdays included, for a look at what wonders have sprouted, like weird and wonderful desert flowers, around the area. Something else amazing about this amazing event, which gained fame far beyond Palm Springs during its initial outing in 2017? It's all free to see, but you'll need to have a way to get around to the installations, and a map, too. The map'll get you to the installations, but a mind held open to its widest, art-appreciating, desert-obsessed points is immensely helpful, too.
Copyright FREEL - NBC Local Media