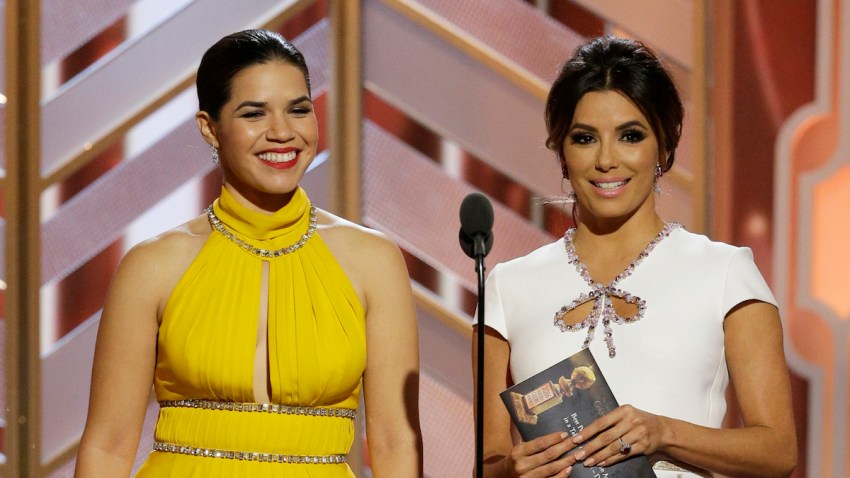 Touché America Ferrera and Eva Longoria. Touché.
The two presenters delivered what may be one of the most clever and hilarious jokes of the night Sunday while presenting at the 2016 Golden Globes. With a slightly harsh opening from host Ricky Gervais (but, you know, what else would you expect from the comic), these two beauties set the record straight on who they are when they had the chance.
They also made sure everyone knew who they aren't.
"Eva Longoria and America Ferrera aren't just beautiful, talented actresses. They are also two people who your future president, Donald Trump can't wait to deport," Gervais said in his introduction.
Once the two stars got to the podium, it was straight to the facts.
"Yes, hi, I'm Eva Longoria, not Eva Mendes," Longoria hilariously started, and Ferrera joined in with, "And hi, I'm America Ferrara, not Gina Rodriguez."
Longoria was referencing the name confusion, and Ferrera was clearly poking fun at the incident that happened in early December when the Globe nominations were announced.
Ferrera, who won the 2007 Golden Globe for Best Performance by an Actress in a Television Series--Comedy or Musical for her starring role in ABC's "Ugly Betty," was the first announcer to take the stage at 5:15 a.m. PT. The Golden Globes' Twitter account shared a photo of her at the podium and misidentified her as Rodriguez not once, but twice.
The tweets were quickly deleted, but obviously, the story lives on.
Longoria and Ferrera continued with the jokes, telling the audience, "And neither one of us are Rosario Dawson."
"Nope. Well said, Salma," Ferrera told her co-presenter, and Eva responded, "Thank you, Charo."
PHOTOS: 2016 Golden Globes red carpet arrivals
READ: No one was safe during Ricky Gervais' Golden Globes monologue
Copyright E! Online