The union that represents the press in Venezuela said Telemundo journalist Daniel Garrido, who had been reported missing Tuesday in Caracas, has been released from the custody of security forces.
Garrido, a correspondent for the Spanish-language Telemundo network, was last seen outside the hotel where Univision anchor Jorge Ramos and his team were staying before authorities ordered them deported from the South American country after an interview with President Nicolas Maduro, according to the National Union of Press Workers in Venezuela (SNTP).
#AlertaSNTP | Daniel Garrido, reportero de @TelemundoNews, apareció luego de ser ruleteado, incomunicado por 8 horas y robado por funcionarios del Sebin. #26Febpic.twitter.com/5CxebzyGTj

— SNTP (@sntpvenezuela) February 26, 2019
The group said Garrido had been photographing the Bolivarian National Intelligence Service (SEBIN), the repressive Venezuelan security force that escorted Ramos and the Univision team to the airport, before he disappeared Tuesday morning.
In a statement published to its website Tuesday afternoon, Telemundo said Garrido was abducted at 6 a.m. ET in the vicinity of the Hotel Cayena in the La Castellana neighborhood of Caracas.
"Daniel was covering the recent detention and deportation of the Univision News team, when a group of armed and unidentified individuals forced him into a vehicle and covered his head with a hood. After questioning him for six hours and seizing his work equipment, the kidnappers freed him without explanation and without returning his equipment."
Luis Fernandiz, Telemundo's executive vice president of network news, confirmed Garrido's release on Twitter. Fernandez tweeted around 1:30 p.m. ET that Garrido was freed but authorities had seized his cell phones. "Another attack against freedom of the press. Another one," he added.
The network condemned the harrassment of journalists in Venezuela by members of the Maduro regime and called on the government to "guarantee our right to inform, as well as the physical integrity of journalists operating in Venezuela, as established in international conventions and the laws of the country."
Tensions Flare Along Venezuelan Border
Garrido's brief detention comes after a Univision news team led by Jorge Ramos said they had their camera equipment and phones seized and were briefly detained at the presidential palace after Maduro abruptly ended an interview Monday.
Ramos, one of the most influential Spanish-speaking journalists in the U.S., said late Monday that Maduro cut short the interview after 17 minutes when he was shown video on an iPad shot a day earlier of young Venezuelans eating food scraps out of the back of a garbage truck.
The news crew was ordered deported and reportedly boarded a flight to Miami without their equipment returned.
Pence Calls for More Sanctions Against Venezuela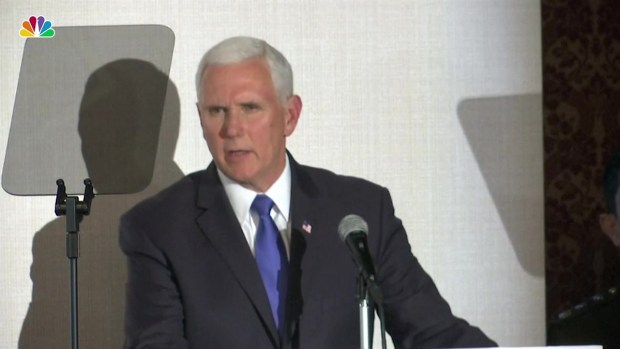 Ramos, who interviewed Maduro's mentor, Hugo Chavez, three times, said Maduro accused him of siding with the government's opponents in the political fight for power now raging in Venezuela.
More than 50 governments around the world have recognized opposition leader Juan Guaido as Venezuela's rightful leader after Maduro was sworn in for a second term last month following what the critics say was an illegitimate election.
As the battle for political power in the country escalates, the Maduro regime has strived to control the news coverage. Privatly owned networks have been taken off air, newsrooms have been raided and closed and reporters detained, according to the Caracas-based free press NGO Espacio Publico. Arbitrary arrests and violence against reporters by the police and intelligence services are common and Foreign journalists are often expelled.
Venezuela is ranked 143rd out of 180 countries in the Reporters Without Borders (RSF) 2018 World Press Freedom Index, dropping six places from its 2017 standing.
"The fact that at least 19 journalists have been detained in 2019 to date demonstrates Nicolás Maduro's pattern of contempt for democratic values in Venezuela, where restrictions on journalistic freedom are used as a blackmail tool within the framework of the country's current crisis," International press freedom organization said in a statement. "The arbitrariness of this act of censorship is aggravated by the fact that it took place during an interview with Nicolás Maduro himself, at the historic headquarters of the Venezuelan government."
RSF called on the international community including those countries that still recognize Maduro as president to "pay special attention to guarantees for a free press in Venezuela under the framework of the commitments they have signed before international law, considering that respect for press freedom is an essential requirement for international relations."