Police said they are investigating a "targeted" incident where a homemade explosive device resembling a pipe bomb damaged a vehicle parked outside a Massachusetts home belonging to a local high school principal.
Police said officers responded to a home on Lakeshore Drive in Blackstone shortly after 6 p.m. Thursday for a report of possible vandalism to a vehicle.
Upon arrival, the homeowner, identified by police and neighbors as Bellingham High School Principal Lucas Giguere, told officers that he had heard a loud bang that shook his home. He then noticed extensive damage to his vehicle.
A preliminary investigation determined that the vehicle had been damaged by an explosive device that resembled a pipe bomb.
Further investigation by local, state and federal authorities indicated that Giguere was targeted and the incident was not random. Police said the public is not in any danger.
"I want to stress first and foremost that we do not believe that there is any danger to the community and that this does not appear to have been a random act," Blackstone Police Chief Ross Atstupenas said.
He also said Giguere had not received any threats.
No one was injured in the explosion.
Giguere's father, Oliver Giguere couldn't believe what he heard or what he saw.
"I ran over and said, 'You alright?' said Oliver Giguere. "He said, 'I'm okay, I'm all set dad.' I said, 'What's up?' He said, 'I think somebody hit me with a pipe bomb.'"
"There was a big hole in the generator," he added. "Juice was running out and I said, 'Wow, this is crazy.' I couldn't believe it."
"I can't even imagine with his personality and the love people have for that man," said neighbor Phyllis Calvey. "I just can't imagine anyone who would target that man."
"I know he seems to be a very nice person I wouldn't expect that anyone would do him harm," said neighbor Rosalie Benoit.
The Bellingham School District said there would be additional police presence at the high school on Friday. "The safety of students and staff is our number one priority," the district said in a statement. All classes and activities are proceeding as normal.
"I just hope it doesn't happen again and everyone can stay safe at the school," said Bellingham High School senior Diane Cabral. "And I hope Mr. Giguere is okay, our principal."

Anyone who saw anything suspicious in the area is urged to contact the Blackstone Police Department at 508-883-1212 or submit an anonymous tip by calling 508-876-5TIP.
The Massachusetts State Police Bomb Squad, the Bureau of Alcohol, Tobacco, Firearms and Explosives and several other area police departments are assisting in the investigation.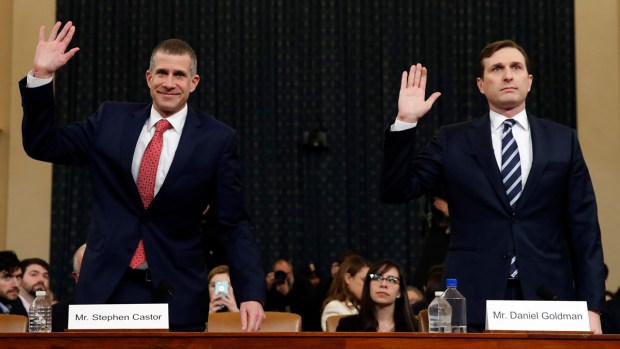 Top News: House Holds Hearing on Impeachment Evidence, More
Police say they did collect some evidence from the scene, but so far there have been no arrests.