The new Jimmy Buffet musical "Escape to Margaritaville," playing its world premiere at the La Jolla Playhouse in California this summer, has found its Broadway home come Spring 2018.
The new musical will premiere at the Marquis Theatre on Friday, Feb. 16, 2018, and will open on Thursday, March 15, 2018.
"Well, going to Broadway is a dream come true, but to be coming to the Marquis is like having a great margarita with a tequila floater. If we are going to turn the island of Manhattan into Margaritaville, Times Square seems the perfect place to drop anchor after our voyage from La Jolla, New Orleans, Houston and Chicago," Jimmy Buffett said in a statement. "I am grateful to all the wonderful people at all levels who participated in the hard work of turning a dream into reality. It's going to be a tropical season in New York. Fins Up!!!!"
[G]Photos: Cast of La Jolla Playhouse's 'Escape to Margaritaville' in Rehearsals
Casting for the Broadway run has not been announced.
The new musical follows a part-time bartender and part-time singer who falls for a beautiful tourist, a woman who makes him question the life he thought he had figured out.
Playwrights Greg Garcia ("My Name Is Earl", "Raising Hope") and Mike O'Malley ("My Name Is Earl", "Justified", "Glee") blend a story in the works for years with new and original Jimmy Buffett hits. Buffett is known for classics like "Margaritaville," "Come Monday," "Changes in Latitudes, Changes in Attitudes," "Manana" and more.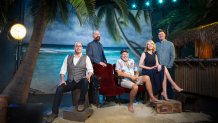 "We've had such a fantastic adventure at La Jolla Playhouse bringing this production – filled with Jimmy Buffett's iconic music – to theatrical life, with such a terrific team of artists," said Tony-nominated director Christopher Ashley in a statement. "We're in the midst of an amazing run here, and I've rarely seen such an enthusiastic response to a show. As a now official Parrot Head, I am overjoyed to continue the journey of Escape to Margaritaville across the country – and on to Broadway."
The musical kicked off the La Jolla Playhouse's 2017-2018 season in early May and runs through July 9. After its San Diego premiere, the show will go on to New Orleans, Houston and Chicago before its Broadway run.
You can get individual and group tickets for the La Jolla Playhouse run online here or by calling (858) 550-1010.
Pre-sale tickets for all shows — including the Broadway run — are available on Ticketmaster.com now. Tickets will go on sale to the general public on Monday, June 26.