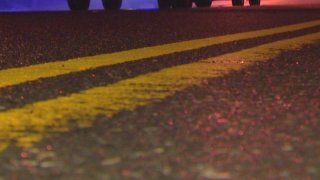 A man sustained fatal injuries Wednesday in a solo collision on Kumeyaay Highway that diverted traffic for several hours in Alpine early morning.
At 12:11 a.m., the California Highway Patrol responded to a car crash along Interstate 8. According to CHP, a driver of a 1999 Chevrolet Blazer lost control and crashed causing the vehicle to roll over causing him to be ejected from the vehicle suffering fatal injuries.
According to the investigation, the driver was unrestrained and a woman passenger was restrained. The passenger, 40, sustained major injuries and was transported to a local hospital.
CHP said they suspect alcohol and drugs were a factor in this crash.
The man has been identified as a 32-year-old man.
A SigAlert was issued closing the freeway at West Willows Road for the westbound traffic for several hours.
No other information was released. The CHP is investigating the accident.
Editors Note: This article originally stated a woman was ejected from the car when it was a man.