A woman's screams for help were heard Thursday night in North Park in the same part of town known recently for a series of attacks.
The unidentified victim was walking alone in an alley near Lincoln Avenue and Idaho Street around 11:30 p.m. when she was knocked to the ground and punched in the face, officers said.
It's the sixth attack on women reported in the area of North Park and City Heights since June. Some of the victims have been knocked out. All but one have suffered serious injuries to the face.
In Thursday's attack, the victim screamed for help and several people in the area came to help.
The suspect then ran northbound in the alley and avoided capture. Witnesses described him as having a normal build, 5-feet 6-inches to 6-feet tall, wearing a red shirt and dark pants.
On Wednesday, June 11, a woman told police she was thrown to the ground by one attacker on 33rd Street. The following Tuesday, June 17, a woman walking on Meade Avenue near 33rd Place around 11:30 p.m. told police she fought off two men.
On Saturday, June 21, a woman was walking along Lincoln Avenue at 9:20 p.m. when she said two men attempted to attack her.
The next Tuesday, June 24, a woman was walking along Lincoln Avenue near Oregon Street and was knocked unconscious in an attack from behind, police said.
Two victims were able to help investigators create a suspect sketch.
In the end of June, San Diego police released a surveillance video showing a person of interest in the attacks.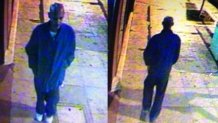 Four weeks later, on July 20, a woman was knocked out while walking near the corner of Lincoln Avenue and Kansas Street around 1:20 a.m.
The attacks have prompted residents to attend community meetings and self-defense classes. Some have adopted a buddy system to keep from walking alone at night.
One woman told NBC 7 she was surprised to learn Thursday's attack happened just outside her building.
"That's too close to home. Way too close to home," she said.
"I think were going to have to move soon cause I don't feel like it's a safe neighborhood anymore," said another woman.
Anybody with information on this assault and/or suspect should call Crime Stoppers at (888)580-8477 or the San Diego Police Department Sex Crimes Unit at (619) 531-2210.