A San Diego man accused of driving drunk in a horrific DUI crash that killed three of his five passengers was allegedly speeding and – despite requests from his friends – refused to slow down before the deadly collision, according to a prosecutor.
"[His passengers] asked him to slow down. He declined, said it was his car and he would drive it as fast as he wanted," said Deputy District Attorney Mackenzie Harvey in court Wednesday.
William Cady, 25, appeared in a San Diego courtroom for the first time to face six charges, including three counts of gross vehicular manslaughter, in the Jan. 10 crash that happened along Interstate 805 at State Route 52, near Clairemont Mesa.

Appearing disheveled and with visible injuries – including two black eyes, several cuts and wearing a neck brace – Cady (pictured below) quietly stared straight ahead as Deputy DA Harvey described the events surrounding the triple fatal crash.
According to the prosecutor, Cady and five of his friends were drinking at a friend's house Friday night before heading to a bar in the Clairemont Mesa area.
At that bar, Harvey said the group of men allegedly consumed a large amount of alcohol, so much so that a server told them they shouldn't be driving.
Harvey said the men left the bar and headed to a grocery store to purchase more alcohol. After that, they made their way to a second bar in Clairemont Mesa where they were eventually kicked out for "being too rowdy," according to the prosecutor.
The six men left that second bar in Cady's Cadillac Escalade, with Cady driving. As they traveled on I-805, Harvey said Cady sped up and refused to slow down. He then lost control of his vehicle and crashed.
According to California Highway Patrol officials, the deadly accident happened at around 11:15 p.m. as Cady merged from I-805 onto SR-52 at a high rate of speed.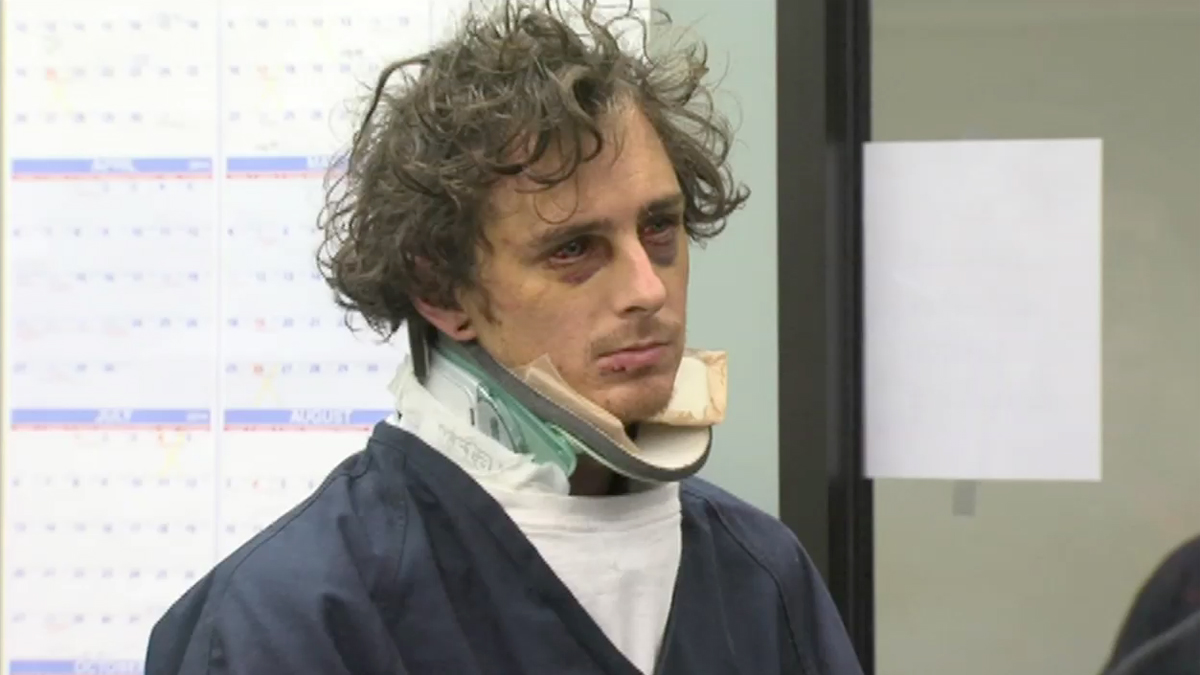 After Cady lost control of the vehicle, the Escalade veered off the road and careened up an embankment, where the car then plowed into a cement pillar and rolled over multiple times, ultimately coming to a halt in traffic lanes.

From there, CHP officials said a chain reaction-style collision followed, with a silver Acura crashing into the SUV. Moments later, another vehicle slammed into the Acura, then traveled down the embankment across both directions of traffic on eastbound SR-52, eventually landing on the south side of the road. A third vehicle was also involved in the subsequent chain reaction collisions.

Both CHP officials and Harvey said five of the occupants in Cady's Escalade were not wearing their seatbelts. Four of the men were ejected from the vehicle.

Two of those men – San Diego residents Taylor Bernardski, 29, and Shon Gilliam, 23 – died at the scene. Another occupant, Jeffrey Becker, 35, who was wearing his seatbelt, was also pronounced dead at the site of the suspected DUI crash.

Cady was seriously injured and taken to a local hospital. According to Harvey, when officials arrived at the scene of the crash, Cady was still inside his car, strapped to the driver's seat.

Cady remained hospitalized until Tuesday, when he was booked into San Diego County Jail and charged for his role in the fatal crash.

The other passengers ejected from Cady's vehicle – a yet-to-be-identified 23-year-old man and 25-year-old man –sustained serious injuries and were also transported to local hospitals. Two occupants inside the other cars involved in the chain reaction collision suffered minor injuries.

On Wednesday, Harvey said the surviving passengers in Cady's car were still recovering from their injuries. Due to the severity of the accident, Harvey asked a judge to increase Cady's bail to $2 million.

"The defendant is a danger to himself and a danger to others in the community," she argued.

A judge approved Harvey's request and set tentative court dates for Cady's readiness and preliminary hearings for Jan. 28 and Jan. 31.

If convicted on all charges – three counts of gross vehicular manslaughter, gross bodily injury counts
for each surviving passenger and a DUI charge – Harvey said Cady faces a maximum of 21 to 24 years behind bars.

Cady's parents, as well as friends of the victims, attended Cady's arraignment.
According to the defendant's attorney, Rick Layon, Cady is in shock and very remorseful.
"He's absolutely devastated. The people that were killed were his friends," said Layon. "There are not going to be any winners or losers in this case – no matter how it shakes out."

Layon said Cady does not have a criminal history. He also said his client is recovering from head trauma sustained in the crash.

"He's pretty banged up; he's beat up," added the attorney.

For now, the suspected drunk driving crash remains under investigation.