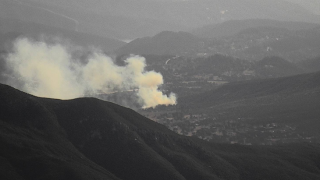 A vegetation fire burning near Viejas Casino east of Alpine prompted a large response from several firefighting agencies Wednesday.
SDG&E Wildfire cameras showed a large plume of mostly white smoke in the area near Willows Road and Viejas Grade Road at about 3:50 p.m.
Firefighters with Heartland Fire and Rescue, the Lakeside Fire Department, Cal Fire San Diego, the Alpine Fire Department and the Cleveland National Forest responded to the blaze.
SkyRanger 7 circled above as crews by both ground and air put a halt to the fire. It appeared just before 5 p.m. that the forward rate of spread had been stopped.
Pink fire retardant could be seen painted on the ground near some homes and structures. It did not appear that any had been damaged but NBC 7 has not yet confirmed with fire agencies.
No other information was immediately available. Check back for updates.