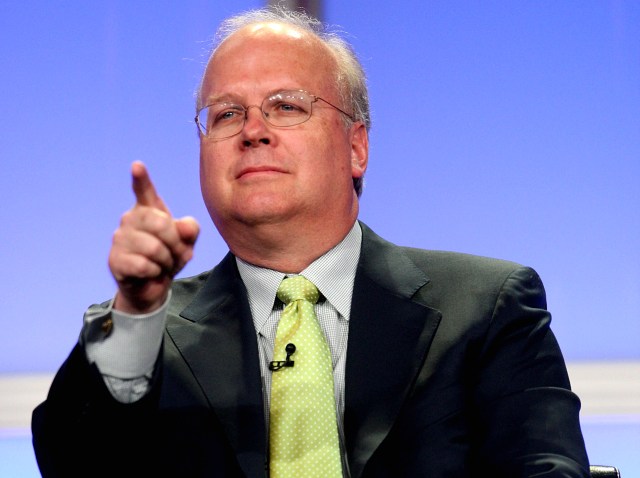 The man who many believe was the mastermind behind the Bush Administration attended a book signing in La Jolla and received a warmer welcome than he did earlier this week in Beverly Hills.
Fans lined up outside Warwick's Bookstore to meet Karl Rove who has been touring the state promoting a new book entitled "Courage and Consequence".
Some San Diegans weren't fans and stood outside with signs protesting Rove's political and military views.
It was a tame protest compared to Monday night at the Saban Theatre when a woman walked up to Rove with handcuffs and called him a war criminal. Rove was speaking to an audience of about 100 people when he was approached by a member of the anti-war group Code Pink.
According to LA Weekly, the stage was cleared and Rove left the engagement after he was approached by Jodie Evans, a co-founder of Code Pink. The Weekly reported:
She went at him with a pair of handcuffs, saying, "Look what you did -- you outed a CIA officer." She was referring to Valerie Plame. "You lied to take us to war. You ruined a country."

Protesters called Rove a war criminal and several other things, then attempted a citizen's arrest. Rove's response to the protesters started with the phrase, "With all due respect," so you know something good is coming next.

"With all due respect, this goes to show the totalitarianism of the left. They don't believe in dialogue, they don't believe in the 1st Amendment," he told the crowd, according to the LA Times.

The Left also does not believe in book signings. Several people who paid about $40 to attend had to leave the event without getting Rove's signature on their copy of "Courage and Consequences: My Life As a Conservative In The Fight." Several people said they just wanted to hear Rove talk.
"Last night I was in Modesto with 500 people who bought books. The small group of people in Beverly Hills… I'm not going to let them blemish what's been a great swing through California," Rove said to reporters in La Jolla.
He said his book gives readers a behind-the-scenes look into many of the administration's difficult decisions.
"I want to give people a chance to peep behind the curtain," Rove said. "And show how we got there and what happened once we got there."