A teacher from San Diego who contracted H1N1 on a school trip to Ireland remains hospitalized overseas with one wish: to come home in time to watch his teenage daughter attend prom.
Officials with the Poway Unified School District confirmed Wednesday that Westview High School English teacher Bob McHeffey is recuperating in a hospital in Ireland.
In mid-April, McHeffey accompanied a group of students including his daughter, Delaney McHeffey, on a spring break trip to Ireland. During the trip, he suddenly became very ill.
"He came down with a cough and soon enough he had a fever and could barely walk with us around the various towns," McHeffey's daughter, Delaney, wrote on an online fundraising blog.
On April 19, McHeffey's condition took a turn for the worse and he had to be rushed by ambulance from his hotel to a hospital.
McHeffey tested positive for the H1N1 strain of the Swine Flu. He was also diagnosed with Bi-Lateral Pneumonia, according to his family.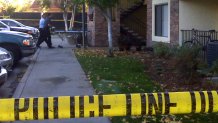 The students flew back to San Diego but, due to his condition, McHeffey had to stay hospitalized in Ireland. His wife traveled to Ireland and has been by his side ever since.
The Poway Unified School District told NBC 7 McHeffey's family started a GoFundMe fundraiser page online to help cover his medical care costs. As of 1 p.m. Wednesday, the family had raised nearly $23,000, surpassing their fundraising goal of $20,000.
Now, McHeffey is working to get better so he can return to San Diego.
"We are hopeful to be home in time to see Delaney go to prom," said a message posted to the family's fundraising page Tuesday.
The post said McHeffey is continuing to improve daily and is now able to get out of bed, get dressed and hold a conversation. He's taking short walks every day and "working to be more independent."
Doctors are monitoring McHeffey for a rash and fever. He's remains on oxygen support, but the family is hopeful he will soon be released from the hospital.
In the meantime, students and faculty at Westview High School created an 18-minute video to cheer McHeffey up dubbed, "We Miss You, Bob!"
The sweet video features many of McHeffey's students expressing how their beloved teacher is sorely missed.
"Class just has not been the same without you, honestly. The energy just is not the same anymore," said one student. "You are the reason for coming to school for us. We really miss you every single day."
Several students also talk about how much McHeffey has helped them with their English skills and influenced their writing.
"Basically, class is not actually class anymore without you sitting there in your chair," said one girl.
"It's not the same," her friends chimed in.
"There's just no motivation to actually write. There's no point of writing unless Bob is actually there watching us!" the group agreed. "We need you!"
McHeffey's influence has certainly made an impact on Westview High School senior Emmit Pert.
Pert was recently named among 160 students in the 52nd class of U.S. Presidential Scholars. He told NBC 7 that, as part of the application process for the prestigious award, a teacher had to write a letter of recommendation for him.
That teacher was McHeffey.
Pert said McHeffey is due to travel with him next month to Washington, D.C., to attend the U.S. Presidential Scholars awards ceremony. The teen hopes the teacher is home and well enough by then to accompany him.