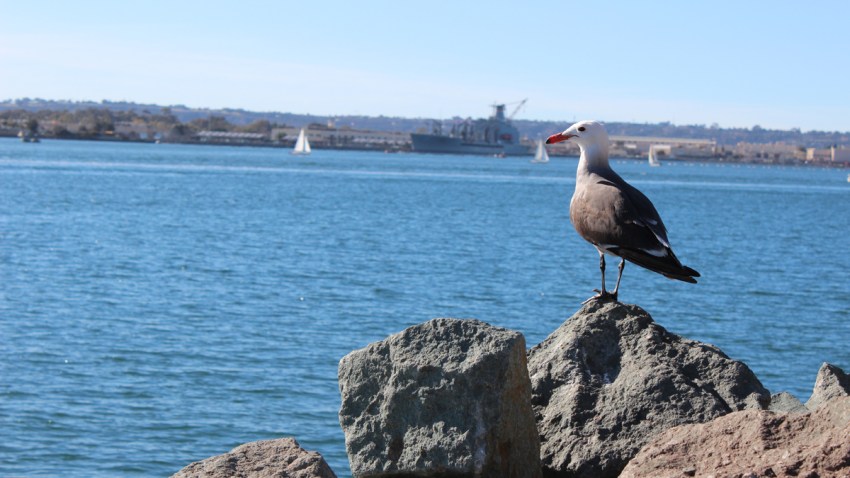 TGI Weekend! There's so much to do around San Diego. Get up. Get out. Play.
Thursday, Jan. 23
Farmers Insurance Open
Times Vary (Thursday through Sunday), Torrey Pines Golf Course
The Farmers Insurance Open is San Diego's prestigious PGA Tour golf tournament played at the scenic Torrey Pines Golf Course and it's back this weekend, Thursday through Sunday. Several ticket options are offered for the tourney, depending on which day you want to head to the green, and what you want to do when you get there. Adult one-day passes start at $65. As we've learned over the years, the tournament is as much about mingling, eating and toasting as it is about the links. So, here's a guide on everything you need to know about how to enjoy the tournament as a spectator. See you at Torrey!
San Diego Restaurant Week
Now through Sunday, Locations Vary
The most downright delicious event continues through Sunday: San Diego Restaurant Week. The semi-annual foodie event features prix-fixe, often multi-course menus at more than 180 restaurants across San Diego. The participating eateries are scattered throughout the county – north to south, east to west – and offer all sorts of cuisine, from Mexican meals and Seafood, to Asian eats and French fare. Prep your palate with this guide and then, let's eat!
Jail Mini-Museum at The Headquarters
10 a.m. to 9 p.m., The Headquarters at Seaport (between Kitson and Madison San Diego)
The Headquarters at Seaport is a solid place to shop and eat but, if you're a San Diego history buff, you may want to pop into a free mini-museum located at its core, between the Kitson and Madison San Diego stores. There, you'll find a fully-restored, 8-cell jail block housing historical photos and San Diego Police Department memorabilia. You see, The Headquarters – built in 1939 – sits in the very complex that served for many decades as the SDPD's headquarters. The site is listed on The National Register of Historic Places. It was restored and reopened as The Headquarters and Seaport shopping and dining complex in 2013. Read all about the site's rich history here.
Behind-The-Scenes Tour, Growing Up Seahorse
10:30 a.m. to 11: 30 a.m. (Daily), Birch Aquarium at Scripps
Dive into the unique world of seahorses and the Birch Aquarium's renowned breeding program dedicated to the conservation of the seahorse. This behind-the-scenes tour is for visitors age 8 and up. Tickets cost $35 (does not include general admission to the aquarium) but space is limited, so reserve that spot ahead of time. The tour happens daily at 10:30 a.m. and lasts an hour.
Lemon Grove Farmers Market
3 p.m. to 7 p.m., Veteran's Foreign Wars Parking Lot on Lemon Grove Avenue
The Lemon Grove Farmers Market goes down weekly each Thursday at the VFW parking lot at 2885 Lemon Grove Ave. Expect vendors selling fresh fruit, vegetables, herbs and handmade gifts, plus savory dishes from local restaurants. Entry is free; bring money to shop local.
North Park Thursday Market
3:30 p.m. to 7:30 p.m., North Park Way & Granada Avenue (North Park)
North Park is known for its interesting small businesses and, on Thursdays year-round, local vendors and artisans are showcased at this popular farmers market located on the corner of North Park Way and 29th Street. On the shopping list: farm-fresh fruits and vegetables, meat, eggs, sauces, bread and even handcrafted gifts from local, small businesses. The free event also features live music.
Oceanside Sunset Market
5 p.m. to 9 p.m., Main Street Oceanside
Each Thursday, year-round, the Oceanside Sunset Market brings about 200 local merchants together for this sunset marketplace spanning four blocks in downtown Oceanside. Shoppers can expect vendors showcasing homemade goods and tasty grub, plus live music and, of course, an incredible ocean view. The family-friendly weekly event also features the Dorothy's KidZone filled with activities for the little ones. The free market is located on Pier View Way, west of Coast Highway. Rain may cancel the event, so check the weather before making your plans.
Disney On Ice Presents: 'Mickey's Search Party'
7 p.m., Pechanga Arena San Diego
The kiddos are going to love this one: Disney On Ice brings its "Mickey's Search Party" show to Pechanga Arena San Diego this weekend, where it'll run through Sunday. The ice skating show – which also features high-flying acrobatics and stunts – stars roster of familiar Disney faces, from Captain Hook and Tinker Bell, to Miguel from "Coco," plus Moana, Belle, Ariel, the gang from "Toy Story" and the "Frozen" sisters. Thursdays show is at 7 p.m., but there are lots of other showtimes throughout the weekend, so check this website for those details. Tickets start at $17.50; parking costs $15.
The Scene
More fun stories from around San Diego County
Friday, Jan. 24
Cat Fancier 30th Annual Cat Show
10 a.m. to 5 p.m. Saturday and 9 a.m. to 5 p.m. Sunday, Del Mar Fairgrounds
Billed as the "Super Bowl of Cat Competition," the 30th annual Cat Fancier Show is the largest cat show in the western U.S., and it's coming to the Del Mar Fairgrounds this weekend. If you're a fan of felines, you'll be treated to a show featuring up to 450 exotic cats from all over the country, some showcasing their agility. The show also includes the Education Ring, a program aimed at understanding different breeds and bringing awareness to shelter and rescue efforts. Tickets cost $9; children age 6 and under get in free with a paying adult.
San Diego Caffeine Crawl 2020
11 a.m. Friday; 9 a.m. Saturday; 10:30 a.m. Sunday, North County and San Diego
Love coffee? Well, then this event may just be your cup of tea. The 7th annual San Diego Caffeine Crawl takes place this weekend, highlighting nearly 40 local businesses along 11 routes from North County beach towns to La Mesa, Point Loma and downtown San Diego. Each participating business will offer sips and samples of coffee, tea and chocolate; just pick the route that best suits your tastes and you're on your way. Some cafés taking part in this year's Caffeine Crawl include Café Moto, Modern Times Beer & Roastery, Nibble Chocolate, and Ryan Bros. Coffee. The first route starts at 11 a.m. Friday. On Saturday, rise and shine at 9 a.m. for the first route of that day. On Sunday, the crawl picks up steam again at 10:20 a.m. The 11 routes are between 2 and 24 miles; some are good for walking or biking, while others are driving routes. Tickets range from $15.50 to $34.50, depending on the route you choose.
SDUSD Art Gallery at Seaport
11 a.m. to 3 p.m. (Friday through Sunday), Seaport Village
Seaport Village and the San Diego Unified School District have joined forces to launch a student-led art gallery located within Seaport Village. The 640-square-foot SDUSD Art Gallery at Seaport is in the easternmost area of the waterfront landmark, closest to the San Diego Convention Center. The gallery will showcase a rotating selection of artwork curated from more than 12,000 San Diego students in Pre-K to 11th grade. The gallery is open each week, Friday through Sunday, from 11 a.m. to 3 p.m. Entry is free.
Shoes & Chews: Carla & Linda's Walking Food Tour
1:30 p.m. to 4:30 p.m., South Oceanside
Oceanside is experiencing a bit of a restaurant renaissance, and these "Shoes & Chews" walking food tours allow you to taste what's cooking in the waterfront city in San Diego's North County. Friday's three-hour foodie tour – led by locals Carla and Linda – will span south Oceanside, with stops at PCH Bar & Grill, Panca, Privateer and Wrench & Rodent. Tickets cost $59 per person (foodies 16+ only) and include tastings of specially chosen items, plus a little history lesson on each restaurant, chef, and the surrounding area. Shoes & Chews started in 2015; today, the tour hits the streets of Oceanside every weekend, usually Friday, Saturday, and Sunday.
Tunes on the Terrace
3 p.m. to 5 p.m., Orfila Vineyards & Winery in Escondido
Orfila Vineyards & Winery in Escondido hosts another round of "Tunes on the Terrace," a laid-back event that goes down at the venue every Friday through Sunday, from 3 p.m. to 5 p.m. Rotating food trucks, live music, and wine sipping on the patio? Sounds like a solid start to the weekend. Entry is free; bring money for food and drinks.
La Mesa Certified Farmers Market
3 p.m. to 7 p.m., La Mesa Boulevard (Between 4th and Palm avenues)
The La Mesa Certified Farmers Market takes over the heart of downtown La Mesa every Friday from 3 p.m. to 7 p.m. Browse through vendors selling a variety of fresh, seasonal produce, fresh-cut flowers, oils, cheeses, packaged foods and so much more. Entry is free; bring cash for shopping and parking, as many of the spaces near the market are metered until 6 p.m.
San Diego Tết Festival
5 p.m. to 10 p.m. Friday; 11 a.m. to 10 p.m. Saturday; 11 a.m. to 9 p.m. Sunday, Mira Mesa Community Park
The San Diego Tết Festival is the longest-running Vietnamese Lunar New Year Festival in San Diego County, and it returns to Mira Mesa Community Park this Friday through Sunday. The event – which attracts more than 20,000 people – features cultural entertainment like lion dancing, martial arts, and Vietnamese singing, plus family-friendly activities, food vendors, carnival-style rides and the Miss Vietnam San Diego Pageant. The community event is free. By the way, Tết, or the Vietnamese New Year, is the most important holiday in Vietnam. It is based on the lunisolar calendar, and a day usually spent with family, enjoying cultural customs. The NBC 7 and Telemundo 20 street team will host a booth at the San Diego Tết Festival throughout the weekend; drop by and say hello to us!
SDMA+ The San Diego Ballet
5:30 p.m., 6:30 p.m. and 7:30 p.m., San Diego Museum of Art (in the Rotunda)
The San Diego Ballet will present three 15-minute pop-up performances Friday night at the San Diego Museum of Art in Balboa Park. Dancers will perform a program of duets and ensemble pieces inspired by works of art featured in the museum's exhibition, "Bouguereau & America." The performances are included in museum admission, which is only $5 if you visit the museum during the venue's "Art After Hours" session, after 5 p.m. on Fridays. Kids 17 and under can enjoy Art After Hours for free, as can college students with valid ID.
'Matilda: The Musical'
7 p.m. to 9 p.m., Coronado Playhouse
The Coronado Playhouse presents "Matilda: The Musical," the Royal Shakespeare Company's award-winning adaptation of Roald Dahl's iconic book about a little girl with incredible powers, who dreams of a better life. The premiere of the play is this Thursday; adult tickets start at $27. "Matilda: The Musical" will run at the venue through Feb. 23, so check the Coronado Playhouse's website for dates, times, and ticket prices.
Hops on the Harbor: Bay City Brewing
7 p.m. to 10 p.m., Flagship Cruises & Events
Enjoy a cruise around the San Diego Bay featuring sights, bites, and craft brews. Every month, Hops on the Harbor highlights a local brewery and, for this first round of 2020, the spotlight is on Bay City Brewing. This month's menu will feature four 6-ounce tasters of Bay City beers, expertly paired with four courses. For example, a Maple Bacon-Glazed Salmon will be paired with the brewery's Peninsula Lager, a Vienna lager, while a Coffee-Rubbed Brisket is matched with Bay City's Coffee Cream Ale. The dinner cruise boards at 7 p.m. from 990 North Harbor Dr. and sails past the San Diego skyline, USS Midway, Star of India and other Maritime Museum ships and the Coronado Bay Bridge. Tickets cost $84.50 for adults and $50.70 for children ages 4 to 12; kids 3 and under are free. Reservations are recommended. By the way, Bay City Brewing took home a medal in 2019 at the San Diego International Beer Festival for its Bay City Pale Ale, which is also on the Hops on the Harbor menu, paired with an Herb-Roasted Pork Loin dish.
'The Princess Bride'
8 p.m. (Friday through Saturday), Cinema Under the Stars
The 1987 classic, "The Princess Bride," hits the outdoor movie screen this Friday and Saturday at 8 p.m. at Cinema Under the Stars in Mission Hills. Since the theater on Goldfinch Street is outdoors and it can be a bit chilly at night, the venue offers blankets, space heaters and other amenities to keep patrons warm and cozy. Admission is $18 at the box office, or you can reserve your seat in advance for $20.
Saturday, Jan. 25
Australia Day Celebration
9 a.m. to 5 p.m. Saturday and Sunday, San Diego Zoo
Australia Day is a national holiday in Australia. This year, the San Diego Zoo is celebrating it too as part of efforts to raise awareness about the devastating, ongoing fires in Australia that have created a crisis for both the country and its diverse wildlife. This weekend, the zoo will feature special Australian shows, music and more, and visitors can even "adopt" a koala. The Australia Day events begin at 9 a.m. on both Saturday and Sunday and are included with admission to the zoo (or with a membership). To donate to the zoo's ongoing mission to help wildlife in fire-ravaged Australia, you can also click here.
Canyoneers Hike: Anza-Borrego Desert State Park (Palo Verde Canyon & The Moly Mine)
9 a.m. to 2 p.m., Anza-Borrego Desert State Park
This hike led by "Canyoneers" – volunteers with the San Diego Natural History Museum – will trek through one of the canyons of the Santa Rosa Mountains at Anza-Borrego named for the Palo Verde trees found in the wash. In that canyon, there's also an old mine with a view of the badlands. The intermediate, 5-mile hike begins at 9 a.m. and is set to end by 2 p.m. The group plans to park and meet at Christmas Circle in Borrego Springs, then caravan to the trailhead. By the way, the Canyoneers hiking program has been offering dozens of free, guided hikes around San Diego County this season. Learn all about that here.
Ruocco Park Market
10 a.m. to 5 p.m., (Every Saturday) Ruocco Park
This Saturday farmers market sets up shop every weekend on Harbor Lane, at Ruocco Park overlooking the San Diego Bay. Expect a healthy lineup of local vendors selling everything from coffee to street food and, of course, an epic view.
Legendary Tour: Hotel Del Coronado
10 a.m. and 2 p.m., Hotel Del Coronado
San Diego history buffs, this one's for you. The iconic Hotel Del Coronado is currently offering a daily tour at 10 a.m. dubbed the "Legendary Tour," which explores the landmark's rich 130-year-old heritage. Learn about the celebrities, royalty and beach-loving families who have gravitated toward The Del over the decades, and the hotel's most notorious guest, Kate Morgan, who checked into the hotel in 1892 whom some believe never really checked out. The 90-minute tour costs $40 for adults; kids 5 and under can join for free. You must register ahead of time. By the way, The Del is currently undergoing the first phase of a $200 million revitalization project called the "Master Plan." It includes preservation of historic sites and a new History Gallery. Read all about that here.
Cook With an Italian Chef & Market Tour
11 a.m. to 2 p.m., Little Italy
This weekly event in Little Italy gives you a chance to cook alongside a trained chef while discovering the community's charming open-air farmers "mercato." Here's how the tour works: a chef-guide will walk with you through the market, pointing out local vendors specializing in fresh ingredients. Together, you'll taste-test items and buy what you need to create your meal before heading to the guide's home to partake in a cooking lesson. You'll cook three dishes – an appetizer and two main dishes – and also enjoy a glass of wine and panna cotta for dessert. This cooking tour costs $79 per person, and is usually available every Saturday.
Stand-Up Comedy
7:30 p.m., 9:30 p.m. and 9:45 p.m., American Comedy Co. and The Comedy Store
Looking for a good laugh? Try a stand-up comedy show at two prime San Diego venues: downtown's American Comedy Co. or The Comedy Store in La Jolla. This Saturday night, there's a 2-for-1 special happening at The American Comedy Co. in the form of the dynamic duo, the Sklar Brothers. Their 21+ stand-up shows are at 7:30 p.m. and 9:30 p.m., and tickets cost $10 to $20. Meanwhile, over at The Comedy Store, Cort McCown headlines shows at 7:30 p.m. and 9:45 p.m. Those tickets cost $20.
Sunday, Jan. 26
Yoga + Mimosa Mornings
9:30 a.m., Windmill Food Hall (Carlsbad)
Enjoy a Sunday morning yoga session at the brand-new Windmill Food Hall in Carlsbad led by a certified instructor. Afterward, 21+ participants can enjoy a mimosa at the foodie-friendly attraction. This class costs $5; bring your own mat.
Guided Nature Walk
9:30 a.m. to 11 a.m., Mission Trails Regional Park
Start your Sunday with a little nature walk at Mission Trails Regional Park. A trail guide will take visitors through one of three trails – the Oak Grove Loop, the Visitor Center Loop, or the Riverside Grinding Rocks – while talking about the plants, animals, geology, history, and ecology of the park. These weekly guided walks are free and open to the public and begin at the Visitor Center. Wear sturdy shoes and bring water, a hat, and sunscreen. Rain cancels the walk.
Gaslamp Artisan Market
10 a.m. to 3 p.m., Gaslamp Quarter (Fifth Avenue)
Peruse more than 30 local artisans offering carefully-curated, handmade products at this weekly outdoor market in the Gaslamp Quarter. The Gaslamp Artisan Market sets up shop every Sunday on Fifth Avenue, between Market Street and Island Avenue.
Allied Gardens Sunday Market
10 a.m. to 2 p.m., Lewis Middle School This certified market takes place every Sunday in the front parking lot of Lewis Middle School in Allied Gardens. Stroll through dozens of vendors and enjoy live performances at this little neighborhood farmers market.
Live Music at Liberty Public Market
1 p.m. to 4 p.m., Liberty Public Market
Enjoy free, live music every Sunday from 1 p.m. to 4 p.m. on the patio at Liberty Public Market. To make a day of it, grab a bite from one (or two!) of the vendors inside the marketplace, take you food to the patio and eat while enjoying the tunes. There's plenty of grassy space for the little ones to run around, too.
'RUTH: Remember Us The Holocaust'
1 p.m., Civic Center Branch Library
This exhibit, which recently opened at the Chula Vista Heritage Museum inside the Chula Vista Civic Library, features stories of the Holocaust survivors that settled in San Diego's South Bay. The exhibit will run through December 2020, with different monthly speakers, documentaries, books and activities. The exhibit is free and open to all during library hours.
Sunday Family Movie: 'A Dog's Journey'
2 p.m., National City Public Library
This 2 p.m. screening of "A Dog's Journey" is sponsored by Friends of the Library. Bring the kids and enjoy the free Sunday Family Movie at the National City Public Library.
Sunday Spreckels Organ Concert
2 p.m., Spreckels Organ Pavilion at Balboa Park
Enjoy a free, hour-long organ concert Sunday at Balboa Park's famed Spreckels Organ Pavilion. At the keys, the audience will typically find Raul Prieto Ramirez, the city's San Diego Civic Organist and Artistic Director of the Spreckels Organ Society. Prieto Ramirez hails from Spain and, as he told NBC 7 in 2018, he hopes to keep the program interesting – from Bach to Queen – at the historic Spreckels Organ. Pets are welcome, and so are picnics.
Do you love the weekend in San Diego? Are you looking for things to do? Join our Facebook group, Your San Diego Weekend. We're sharing weekend events, things to do with the whole family, weather, the newest restaurant openings, and more! Click here.