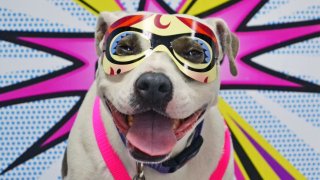 There's always something fun to do in America's Finest City. Our Weekend Events guide is here to help. Get up. Get out. Play!
What to Know
Our Weekend Events guide will publish every Friday on The Scene section of on NBC7.com
Like our mission always, our guide will span the county -- north, south, east and west -- to bring you fun, fresh, and affordable things to do in San Diego
Follow @TheSceneSD on Twitter or here for the latest stories on things to do around San Diego
Saturday, July 24
PAWmicon
9 a.m. to 11 a.m., Rancho Santa Fe
The tiny, Pug-sized cape, the one that's been hanging in the back of the closet for a couple of years? It's time to pull that sparkly accessory out and call your heroic hound over. For PAWmicon, the beloved Helen Woodward Animal Center fundraiser, is trotting forward in 2021 as an in-person (and in-dog) to-do. Pups in superhero costumes, and the occasional cat, will help call attention to the center's animal-helping programs, and raise funds, too. Have a group costume with your canine? So cool: Humans are invited to get gussy, too. Woof, woof: Cosplay entry is $10 per pup. There's also a virtual component to the weekend: The center will play a role in a virtual Comic-Con International panel on Sunday, July 25.
ComicCon@Home's Robert A. Heinlein Blood Drive Various times and locations, July 23 through Aug. 24 The planet's largest pop culture extravaganza will be virtual in 2021, it's true. Panels, talks, and all sorts of fan-oriented events are popping up online, giving film fans, mavens of graphic novels, and cosplayers plenty to participate in over a long July weekend, wherever those fans might be located. But there is Comic-Con tradition that will continue to be in-person: the blood drive, an important way for fans to give back to the community. Can you donate? The convention has a list of locations on its site, nine centers around the region. You can make an appointment, too, before you go. And good to know? You have through Aug. 24 to join the 45th Robert A. Heinlein Blood Drive.
Movies on the Beach
8:30 p.m., Coronado
Truth? You may have seen "Grease" once, twice, or a dozen times, but you've likely never watched the legendary 1978 movie musical in the vicinity of the waves. It's an experience that every fan of the film should likely have once, especially since Sandy and Danny are seen frolicking in the surf early in the flick. Now you can see the sassy gem on the sand, thanks to this Hotel del Coronado series. A ticket? It's $25 per person, and you can find bites and beverages for purchase at the Beach + Taco Shack. And if you're eager to see the movie that's famously associated with The Del, hang tight: "Some Like It Hot" is up on Sept. 4.
Rooftop Yoga
10:30 a.m. to 11:30 a.m., Little Italy
Sublime yoga experiences are plentiful around the region, but alighting in a spot that includes both sun salutations and, later on, if you're so inclined, splendid sips, is rather more challenging. One solution? Roll out your mat at a place known for its fine vinos and choice atmosphere. That's what's happening at Pali Wine Co., on their pretty rooftop, each Saturday morning (though we'll call this a later-in-the-morning affair, giving you time to catch a weekend errand or two beforehand). Your $20 entry? Not only is the class included, but a glass of wine at the conclusion of class, too.
La Jolla International Fashion Film Festival
10 a.m. to Noon, La Jolla
No one would dare quibble with you if you claimed that La Jolla had a lot in common with Cannes, especially in terms of beach-close beauty, interesting architecture, and a certain je ne sais quoi. It only makes sense, then, that "The Cannes of the fashion film world" would unfold in the handsome hamlet, drawing cineastes, designers, and the fans who adore the places where those worlds intriguingly intersect. There are several events flowering on both July 23 and July 24, with tickets running the gamut from free to $500. Sashay by this page now to see if the perfect film fit is awaiting you.
Sunday, July 25
Sound Healing and Yin Yoga
9 a.m. to 10 a.m., Encinitas
A session that gives you the opportunity to bask in an aural atmosphere that relaxes you, but also provides energy? You can find a solid class in so many spots around San Diego. But locating a lovely location that's out in the open, under the sky, that has all of the pleasures of a sound experience, plus yoga that moves at a more stately, take-your-time pace? That's rather rarer, but that's just what you'll find at the San Diego Botanic Garden. The special session is $28 for non-members, and includes admission to the garden. So do stay and stroll after, if you're feeling especially uplifted and refreshed. Can't make the 25th? It'll be back in August.
Taste of the Turf Club
All day, Del Mar
So you want to saddle up and trot by the Del Mar Thoroughbred Club, after donning your flowery hat and/or seersucker suit, but you'd like your day out at the track to include plenty of terrific tastes, too? There is a way to sup on Sundays during the season, cheer on the ponies, and enjoy mimosas, too (yep, they're bottomless). It's $100, which includes your admission to the Turf Club and general parking, too. But, for sure: You'll want to show with funds for food and those fizzy orange sips, too. Do you need to wear your going-to-the-races hat? No, but if you have one, why wouldn't you?
Doughnut Class
2 p.m. to 4 p.m., Downtown San Diego
The chances that we'll chow down on a doughnut on a Sunday? We'll put that notion in the "strong" category, for it is something that's very likely to happen. But making that doughnut? As in, actually shaping and creating and baking the pastry? Probably not happening. But it can, for all the Sundays to come, if you learn doughnut-making techniques with Devine Donuts. The two-hour class, which will take place at the DoubleTree by Hilton Downtown San Diego, will cover a trio of tasty global goodies, including the Italian Bombolini and Hawaiian Malasadas. A ticket starts at $59.
Venissimo Cheese Day
1 p.m., Barrio Logan
If you don't have July 25 triple-circled on your calendar, and yet you're a fan of savory slices and chunks o' dairy goodness, and you like grape-based adult beverages, too, better go grab a pen: Wine & Cheese Day flavorfully falls on the 25th day of July. Best check in with your local cheese shop or wine seller to see if they have a tasting or special event happening, or make for Thorn Brewing Company's Acre of Awesome, where Venissimo will be popping by with plenty of perfect cheeses to try (hard yerba mate and craft beer will be on the pour, too). The delicious details on the $40 eat/quaff pop-up? Right here.
Fun on the Historic Carousel
11:30 a.m. to 4:30 p.m., Seaport Village
Family-fun goals? They're often centered around sunshine-sweet spots, like parks, zoos, and sports centers. You might want to discover, as a unit, how many times you can catch a Frisbee, how many somersaults you can do down a favorite hill, or how many bubbles you can blow from a soapy wand. But have you and your tots decided to ride all 54 animals found on Seaport Village's colorful carousel, and the pair of chariots, too? You could maybe achieve this goal over a few summers, though maybe sooner, if your family makes this a light-hearted goal. It's $3 a ride, and open every day of the week, including Sundays. Adding to the sweetness: There's free music nearby on Sunday afternoons.