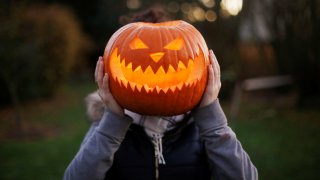 There's always something fun to do in America's Finest City. Our Weekend Events guide is here to help. Get up. Get out. Play!
What to Know
Our Weekend Events guide publishes each Friday on The Scene section of NBC7.com
Like our mission always, our guide will do its best to span the county -- north, south, east, and west -- to bring you fun, fresh and affordable things to do in San Diego
Follow @TheSceneSD on Twitter or here for the latest stories on things to do around San Diego
Saturday, Oct. 23
AleSmith Fright Nights 7 p.m to 11 p.m.; Miramar Boos and brews? Sipping some suds while seeking out a few startles and scares grows quite popular as October reaches its final week. And if you make for AleSmith Brewing Company, you can savor a bit of both, if you're ready for a hopsy haunted happening. For Fright Nights featuring the Haunted Maze by ScareAdventures is now lurking at the libation-filled location. You may encounter the "Red Harvest," and other spine-chilling sights, if you step away from the tasting room to investigate "what evil lurks in the rolling wheat fields..." The booful brew at the center of scares? Why that would be Evil Dead Red, of course. Good to know? This experience is likely too intense for the youngsters. Tickets start at $7.
KOREA DAY at Balboa Park
3 p.m. to 8 p.m.; Spreckels Organ Pavilion
The conclusion of a particularly poignant project, a destination that will bring joy to many people, feels especially celebratory. And that spirit will be high at the site of Balboa Park's most famous musical instrument when the Korean Cultural Center Los Angeles and House of Korea throw a five-hour festivity, all to honor "the completion of the House of Korea cottage." K-Pop performances will be a song-sweet centerpiece of the joyful gathering, as will presentations spotlight traditional Korean music, and guests can visit the booths dotting the grounds (look for cultural offerings and information). It's free to attend.
Ghost Roast
5:30 p.m. and 7 p.m.; Coronado Island
Our region is full of phantoms, and phantom-inspired tales, those yarns that spin out the stories of long-ago San Diegans, as well as visitors to the area. One of the best-known of these visitors must be Kate Morgan, the glamorous guest who never checked out of Hotel del Coronado. The Del honors its best-known ethereal resident each October, through a moody multitude of haunted happenings, including sip-oriented evenings and special tours. If you're looking for a bonfire on the beach near the hotel, one that comes with s'mores, here's your chance: Ghost Roasts are materializing at the landmark s October ends. The cost is $230.
Summer Movies in the Park
Times and locations vary
Totally complimentary family flicks of the pay-absolutely-nothing variety? Oh dear, but we really don't want these to end. And yet? "Summer" is in the name of this beloved series, which pushes far into the fall (and for that, we are grateful). But that fall push is coming to a conclusion, in early November, which means you best pack your picnic hamper and blanket soon. Three quality frightful but fun films will be playing around the region on Oct. 23, including "Hocus Pocus" at Otay Lakes County Park at 4:30 p.m., "Beetlejuice" at Lindo Lake County Park at 5:30 p.m., and "Monsters University" at Standley Community Park (also at 5:30 p.m.) Details? Don't delay, movie buffs: They're all right here.
Kids Free San Diego
Times and locations vary
Where to go, what to do, when to do it? Those seem to be some of the most major questions that parents ask themselves and other parents when the weekend arrives. But when it comes to the cornucopia of cool freebies that come along for our youngsters each October 'round San Diego and beyond, one question doesn't pop up quite as much: what's the cost? For sure, adults will still pay to enter museums, attractions, zoos, and such, but over 100 local spots are waiving admission for children, all month long. The fine print regarding prices and rules can differ, from place to place, so read everything now, then decide if you and the fam are headed for a fest, an aquarium, a tour, a gallery...
Sunday, Oct. 24
Rock 'n' Roll San Diego Marathon 6:45 a.m. start time; Balboa Park start line Stretching, moving, getting your water, getting your sleep, doing some yoga, putting in a power walk or two? Thousands of San Diegans have been preparing for this biggie on the mondo running circuit. The course starts on the west side of Balboa Park, with a picturesque wend over to the water and into University Heights. Not up for doing the 26.2 miles? There's a 5K on Oct. 23. Not planning on hoofing it in any of the weekend's city-spanning races, which also include a half-marathon? You'll want to check out all of the road closures, which will change up traffic flow in several neighborhoods, from Mission Bay to Golden Hill.
Haunted Aquarium
6 p.m. to 9 p.m.; La Jolla
Sharks? They don't shop for Halloween costumes, nor do jellies put pumpkins out to delight any trick-or-treaters. And whales? We've never heard of these gentle giants throwing a spooky soirée, the kind that involves bobbing for apples or big bowls of candy corns. And yet, plenty of us can find eeky thrills in the ocean, the sort of charming chills which also broaden our eco-knowledge. Birch Aquarium is hoping to expand that knowledge, all while enjoying some seasonal sweetness, at this event, which is haunting the aquatic institution over three nights (Oct. 22-24). Costumes? They're encouraged, so break out that mermaid look. Tickets are $25 members, $30 for the public.
Oceanside Día de los Muertos Festival
10 a.m. to 5 p.m.; Downtown Oceanside
How is your at-home altar coming along? Have you filled it with mums and marigolds, and a picado banners full of festive designs and hues, and the most meaningful photographs you own? There are places to connect to this touching time of year, locations that feature lovely altars, displays, performances, and vendors, too. Make for Oceanside on October's penultimate Sunday for a large-of-scale, sweet-of-spirit celebration, one that will pay tender homage to those who have passed through the veil. Elaborate, gorgeously realized altars, themed activities for kids, and a chalk cemetery is all part of the daylong to-do. If you'd like to be present for the blessing of the ofrendas, that happens at 10:30 a.m. Entry is free.
Corpse Flower Bloom
9 a.m. to 5 p.m; Encinitas
Not that we're impatient or anything, because rushing nature, or even attempting to give the wilder world a gentle nudge? Honestly, we'd never. But we're eager to see just when the Amorphophallus Titanum now on view at the San Diego Botanic Garden will finally open. Because when it does? Ohhh, stink-a-roo: This world-famous, ultra-rare specimen lets off quite the foul smell. That famous foul-a-tude is even seen in the tall plant's popular nickname, the Corpse Flower, but the only way to really know is to let your nose pay this botanical superstar a visit. The SDBG's current Corpse Flower isn't yet open, though it is growing bigger by the day. It also just gained an October-perfect name: Jack Smellington. An adult garden ticket is $18.
Fall Fun Around San Diego
Times and locations vary
We're now entering a week that's full of intense moments, the super-big jumps and ultra-big screams that give grown-ups a few extra thrills in the spooky season. But if you have tots in the house, and you're seeking a gentler expression of autumn, be full of cheer: There are less-eeky events out there, including Howl-O-Scream at Sea World San Diego and the autumnal doings at San Diego Zoo Safari Park. And have you had your fill of apple-picking photo opps, pie-eating deliciousness, and other Julian-based charms yet? Now is the time. Find some fanciful, unfrightful ideas for a memorable family outing via our Fall Guide 2021.
Listen/subscribe to the Scene in San Diego podcast to get the latest local lifestyle stories and news from our local food and drink scene. As we continue to adjust to life (back and forth, back and forth) in these times of the coronavirus pandemic, the way we enjoy our city has changed. We'll keep you up to speed on how those changes impact the things you love to do in our city. Tap here to find Scene in San Diego wherever you listen to podcasts.