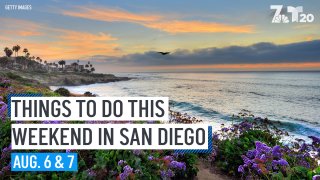 There's always something fun to do in America's Finest City. Our Weekend Events guide is here to help. Get up. Get out. Play!
What to Know
Our Weekend Events guide publishes each Friday on The Scene section of NBC7.com
Like our mission always, our guide will do its best to span the county -- north, south, east, and west — to bring you fun, fresh and affordable things to do in San Diego
Follow @TheSceneSD on Twitter or here for the latest stories on things to do around San Diego
Saturday, Aug. 6
Toro Nagashi Festival
11 a.m. to 6 p.m.; Balboa Park
The ethereal image of a floating lantern can instantly invoke a peaceful feeling and a connection to those also observing the water-lovely lights, the sort of connection that is at the heart of a memorable community celebration. And this annual two-day festival is full of heart, joy, and peace, though keep in mind it is happening on Friday and Saturday (and not Saturday and Sunday). There are three floating times on the Aug. 6 line-up, starting at noon, and pre-orders are sold out. Look also for live music, kendo demonstrations, and more events at the Japanese Friendship Garden.
Tiki Oasis
​Times vary; Town and Country Resort
Mid-century merriment is the vivacious vibe at this venerable gathering, which is billed as "the original and largest Tiki event in the world." Music, fashion, design, and happy hobnobbing are stylish centerpieces of the multi-day party, so choosing what you'd like to do before you go is paramount. Some Saturday highlights include a Uke Jame with King Kukelele, an art show, a marketplace, and a Novelty Hat Rendezvous. A full evening of entertainment on the Martini Lawn is on the roster, as well as a later-in-the-night dance meet-up, and a midnight burlesque presentation, are also on the schedule. As for what's happening each day of the five-day fest? Sashay by this site.
ArtWalk @ Liberty Station
10 a.m. to 6 p.m.; Point Loma
After the go-go-go of summer, but before the go-go-go of the school year commences, there is early August, when we actively seek out those events that engage our minds, intrigue us on several levels, and give us much to mull over. And if such an event is free? Oh, we're stoked. The ArtWalk popping up at the 17th Annual Fine Art Festival popping up at Liberty Station throughout the weekend is just the sort of idea-filled spectacular we're seeking, with over 150 artists displaying their works. Oh yes: And wine and beer will be for sale, too, if you'd like sip in the sunshine before soaking in all of the splendid pieces.
Happy 50th, Helen Woodward Animal Center
2 to 4:30 p.m., Rancho Santa Fe
Helping animals in need is a big and joyful job, an emotional calling, and the work? It is most definitely ongoing, as any dedicated volunteer can attest. Helen Woodward Animal Center has answered that call for half a century, and to celebrate one of our region's busiest hubs for critter-cute assistance? There shall be an afternoon celebration, one that features craft-making, informative center tours, and other beastly-fun happenings. It's free to attend and will give anyone who has adopted at the center or hopes to one day, a closer look at what staffers and volunteers do.
"The Goonies"
8 p.m.; Coronado
It's always pretty enchanting to view a movie while seated on a beach. Maybe it is the knowledge that the vast ocean is just steps away or the sandy scene, but films take on a fantastical layer when screened in such a spot. But when the movie you're watching also has ocean-tastic elements and a seaside vibe? Goodness: Talk about a perfect pairing. Hotel del Coronado is presenting the beloved, friendship-strong classic as part of its Movies on the Beach series. Tickets start at $25, and snacks and sips will be for sale nearby. Ever watched "The Goonies" at the ocean's edge? Here's your chance.
Sunday, Aug. 7
Summerfest
3 p.m.; La Jolla
We're ready to sail away on a wave of wonderful, rich, and moving sound, with the sorts of artists who inspire and engage our minds and hearts at the lead. It's a good thing, then, that this multi-day festival, presented by the La Jolla Music Society, is giving fans of live music something to happily anticipate over the next few weeks. Are you ready to take a joie-de-vivre-y jaunt to France? That's the theme over the first weekend of August, where "A Weekend in Paris" will focus on French composers. The place? The Baker-Baum Concert Hall. Ohh la la: We're jetting off in this direction for more information now.
Nighttime Zoo
4 p.m. to close; Balboa Park
We've now passed the midpoint of the year, and we're ready to raise a roar before the many errands of autumn make their official entrances. And if we can do so at a special animal-adjacent, one that goes a little further, and festively so, into a summer evening? We're all about it. With busy weekdays on our horizon, a Sunday night visit to San Diego Zoo's seasonal party might be just the joyful ticket. But what can you expect at Nighttime Zoo? Wildlife performers, get-dancing music, an acrobatic Outback show, and plenty more. The activities, performances, and later-in-the-day delights are included with your zoo admission.
Rooftop Cinema Club San Diego
Hours vary; Embarcadero
The Rooftop Cinema Club in the Embarcadero has a full film schedule, each and every weekend, with newer flicks and all sorts of throwback favorites. It's located on the 4th-floor terrace of the Manchester Grand Hyatt. Doors open 30 minutes before the screening. Food and beverages will be available on site. Showing on Aug. 7? The animated "Beauty and the Beast," "The Wedding Singer," (with open captions) and "A Star Is Born" from 2018. A good plan? Do peruse the whole schedule before you go. Tickets start at $18.50. For more details, click here.
World of Houseplants
10 a.m. to 4 p.m.; Encinitas
Buoyantly stemmed, full of flair, gorgeously green and/or striped and/or spiky: Our houseplants boast so much personality, or perhaps "plants-onality," and describing each beauty in our homes requires all sorts of florid descriptions. Whether you're a monstera maven, a fern fan, or you simply adore every potted wonder in your collection, you'll want to unfurl a frond in the direction of the San Diego Botanic Garden. The lovely and leafy display will be on view in the Dickinson Family Education Center through Sept. 5, with plenty of good-to-have flora facts for people seeking to up their plant skills. Good to know? There's a special hour devoted to SDBG members every Sunday morning starting at 9 o'clock.
"Sea Monsters: Delving Into the Deep Myth"
Noon to 4 p.m.; Maritime Museum of San Diego
Spying something long and sinuous on the surface of the ocean? It could be a long and especially thick strand of Seawood, or a colossal knot of kelp, or might it be... a massive tentacle? Our imaginations do grow larger when we're next to large bodies of water, the Maritime Museum will explore our fascination with creatures of the deep. Special activities, maps, and hands-on pursuits are part of the fun at the new exhibit, as well as picture opportunities aplenty (like the giant tentacles now wrapped around the Star of India's masts).
Gaslamp Skate Sundays
5 p.m. to 8 p.m.; Gaslamp District, 5th Avenue and Island Avenue
If roller skating back through the decades sounds fun to you, you're in luck. Gaslamp Skate Sundays is back! Every week, roller skaters of all levels will take over a block of the Gaslamp District in decades-themed attired, music, and party lights. Grab your bellbottoms and love beads, this week they're going back to the Groovy '70s. Themes cycle from '70s, '80s, '90s, to '00s and is put on by the Sunset Roller Club. The weekly event continues until Sept. 25.