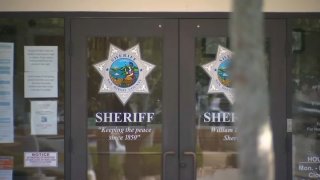 An incident that was reported last week of a man attempting to walk away with a child at an Encinitas beach did not happen, the San Diego County Sheriff's Department (SDSO) confirmed Thursday.
After a comprehensive investigation, "the May 1 incident at Moonlight Beach did not occur," and "there is no suspect at large and no danger to the community," deputies said in a news release.
SDSO said in a previous news release that a man had attempted to walk away with a 5-year-old girl Sunday at Moonlight State Beach in Encinitas. SDSO said the man took the girl's hand and tried to walk away at about 4 p.m. in the 400 block of West B Street.
In the release, SDSO reported that the child's mother witnessed the man attempting to grab her child's hand. The mother yelled at the man who then took off in a southerly direction, SDSO said.
NBC 7 reached out to the North County Sheriff's Station asking if any charges would be filed. In an email, Lieutenant Christopher Lawrence replied, "At this time we will not be seeking charges against the reporting party."