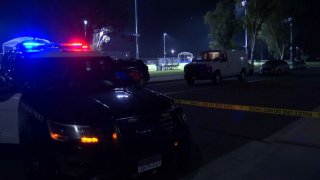 San Diego police received reports of a hit-and-run collision minutes before 11:30 a.m. near the Silver Wing Recreation Center on Arey Drive, according to Lt. Jud Campbell.
When officers arrived at the scene, they located the injured man in the street next to a bicycle. Paramedics transported the man to the hospital, but he did not survive his injuries.
San Diego Police Department traffic detectives initially responded to the scene and determined a vehicle had struck the bicyclist before leaving the area in an unknown direction.
"The vehicle is believed to be an older model Chevrolet Suburban or Tahoe," according to San Diego Police Officer Dave O'Brien. "There is no information on the driver of the vehicle," O'Brien added.
During the investigation, traffic detectives gathered information indicating the traffic collision may have been intentional. The investigation was then turned over to the department's Homicide Unit.
According to O'Brien, officers from other areas in the city were asked to respond to the scene, due to staffing issues in the department's Southern Division where the collision occurred.
No other information was available.
Please refresh this page for updates on this story. Details may change as more information becomes available.