"Unproven but profitable". That's the headline of a recent Journal published by the American Medical Association, exploring the explosive growth of stem cell clinics across the country, including here in San Diego County. The clinics offer questionable "breakthrough" cures for a wide range of health problems.
In May, NBC 7 Investigates first reported on these "surgery-free" fixes that were drawing hundreds of local potential buyers to free seminars. In one seminar, attendees were not told that the costly procedures, sometimes costing up to $6,500 per injection, have not been FDA-approved, nor were they told the procedures do not have scientific support for their claims.
The only proof provided to patients are testimonials from patients who say the products were miracle workers.
Now, the claims made by these clinics have gotten the attention of the California Medical Board and has led to the creation of a task force to review the clinic's practices. The task force was formed as a result of an inquiry about the industry from the chairman of the U.S. Senate Health, Education, Labor, and Pensions Committee.
Currently, the only stem cell-based products approved by the Food and Drug Administration (FDA) are for transplant procedures. But these clinics are offering something different. Clinics advertising through Stem Cell Health Centers offer stem cell injections that they say are a "cutting edge treatments" that offer "regenerative cures".
NBC7 Investigates has found newspaper and broadcast advertisements for free seminars running nearly daily in San Diego, making stem cell health claims without providing specific information about what procedures are performed.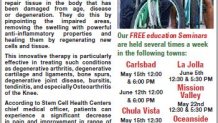 The ads list hotels hosting these seminars from Oceanside to Chula Vista, all centered around how to "restore your pain-free life".
NBC 7 Investigates spoke with a registered nurse and a patient advocate who agreed to attend two of these stem cell sales presentation seminars, one in Mission Valley and the other in Rancho Bernardo.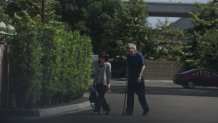 At both locations, Chiropractor Doctor Jared Taylor pitched to the crowd stem cell injections, costing at least $5,000 each, through the Create Wellness clinic in La Jolla. After the seminar, Taylor would not comment on the claims and treatments offered in the seminar. Create Wellness is owned by Acupuncturist Roya Nikzad, who did not return NBC 7 Investigates' calls for comment.
In May, NBC 7 Investigates found another chiropractor, Michael Van Derschelden, using similar sales tactics at a Carlsbad hotel seminar. Van Derschelden told the audience of mostly senior citizens, some in wheelchairs, that he's a specialist in regenerative medicine at West 2 North Medical Solutions in San Marcos. After the seminar, Van Derschelden refused to answer questions surrounding the claims he made to seminar attendees.
Promises of Pain Relief
For Actor Ed Hollingsworth, pain relief is top of mind. Hollingsworth has serious back, spine, knee and shoulder injuries, so he agreed to attend a stem cell sales seminar in Mission Valley and relay what was said to NBC7 Investigates.
"I heard a lot of anecdotal things," Hollingsworth said. "[I] didn't see a lot of proof. It concerns me the fact that it is so expensive. Like for me, with all the different areas, it would cost me conservatively maybe $30,000 to get all the different [treatments]."
His wife, patient advocate Marian Hollingsworth, said the sales pitch included numerous promises for pain relief.
"They talked about an I.V. infusion [offered] for somebody with cystic fibrosis. And that this woman is [now] off her meds," she said. "Now this is somebody who was turned down for a lung transplant. So that's a pretty hefty claim."
NBC 7 Investigates found orthopedic problems are the primary draw for the clinics but not the only claim of relief promised by the chiropractors in the sales seminars.
The underlying "science" of the claims made in these seminars is that the injections "take advantage of your body's ability to repair itself naturally," according to the clinic's advertisements.
"They didn't really say what is in it exactly, besides stem cells from birth waste," Marian said. "And that seemed kind of farfetched."
While Marian and Edward attended the seminar in a hotel conference room, NBC 7 Investigates Producers sat in the hotel lobby. The couple texted Producers about the different claims made by Dr. Taylor. Some of the claims made involved "cures" for a range of ailments, including Alzheimer's and Parkinson's disease.
"[They] said only one shot was needed, with pain relief in two to four weeks with no downtime," one text read.
"Stem cell therapy helps with COPD--lung disease," Marian Hollingsworth texted. "They claim [to have] FDA clearance."
Outside of the Mission Valley hotel conference room where the seminar was held, Create Wellness Clinic Director Melody Darvish sat and shared information with attendees as they left the presentation. After attendees left, NBC 7 Investigates asked her what the term "FDA clearance" meant but she would not tell us.
"I think you have all the information you need," Darvish said.
NBC 7 Investigates asked the FDA about the term "FDA clearance" versus "FDA approved".
Stephanie Caccomo, a spokesperson for the FDA, said the term "FDA Clearance" only applies to medical devices, not treatments. And that the stem cell procedures offered by these clinics are neither approved or cleared.
NBC 7 Investigates also asked Dr. Taylor about the fact that on the day of the Mission Valley stem cell seminar, September 25, his chiropractor license was expired.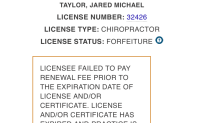 Taylor said his license wasn't suspended and that he had "sent his paperwork through the mail." According to California's Department of Consumer Affairs website, Taylor's license, issued out of Utah, had expired in February after the "licensee failed to pay renewal fees". NBC 7 Investigates found no previous disciplinary actions are taken on Taylor's license and since the seminar, his license has been reinstated.
The website for Create Wellness, the La Jolla clinic Taylor works for, states his role is to consult with potential candidates for stem cell therapy and to "utilize functional medicine for customized healthcare."
Stem Cell Health Centers
NBC 7 Investigates has found a common thread with all of the stem cell seminars and advertisements for these treatments, a group called Stem Cell Health Centers. Stem Cell Health Centers has used similar advertisement campaigns involving chiropractors and acupuncturists in 14 states, including California.
Digital forensic experts confirmed what NBC 7 Investigates found, that Stem Cell Health Centers' website has done a good job of hiding the creators of its domain. The domain was created in July 2017 with a private registration invoked immediately.
Materials on Stem Cell Health Center's website link to a 40-year-old Salt Lake City acupuncturist named Regan Archibald.
On the website, an e-book written by Archibald is offered for free and referenced often titled "The Stem Cell Breakthrough". In the book, he claims Stem Cell Health Centers has seen, "well over 25,000 [stem cell] cases with over a 90% success rate."
Archibald also states in the book that his own life experiences and injuries led to his discovery that, "stem cell therapy could repair and enhance".
NBC 7 Investigates contacted Archibald to find out more about Stem Cell Health Centers and he said he has nothing to do with what other clinics are claiming at seminars, including here in San Diego. "This is simply a website where individuals and clinicians can reference many of the studies that I've found to be helpful. I've been able to learn from Arnold Caplan Ph.D."
Dr. Arnold Caplan of the Case Western Reserve University and a noted expert in the field of stem cell research told NBC 7 Investigates, "I do not know this guy but am VERY (sic) supportive of your efforts to strip away the unsubstantiated claims made by many online"
When asked about Archibald's role with Stem Cell Health Centers, the advertising campaign and for proof behind claims made in his book and elsewhere, Archibald stopped responding.
On YouTube, Archibald provides a video tutorial or "how to" for anyone interested in starting a stem cell practice.
Stem Cell Clinics Across the Country
Leigh Turner of the University of Minnesota Center for Bioethics said the rise in stem cell treatment offers here in San Diego can be seen across the country.
"We're talking about hundreds of these across the United States," Turner said. "By my count, it's over a thousand at this point."
Other experts NBC 7 Investigates spoke with provide similar figures on the number of stem cell clinics.
Turner notes the clinics are expanding rapidly, with different owners and clinic names, all making similar promises. He believes it's up to both state and federal agencies to investigate this further, but so far they have largely ignored the issue.
"If someone has set up shop in San Diego or San Francisco or somewhere else, that company can market stem cell treatments for years with no evidence behind what they're doing and no one's going to come knocking on their door," Turner said.
But that may be changing, at least here in California. Recently, the California Medical Board announced they are setting up a task force to investigate the claims made by these stem cell clinics, among other things.
Its impetus was a letter from U.S. Senator Lamar Alexander (R-TN) to the Federation of State Medical Boards, in which he voiced concerns that "recent reports indicate some patients have been harmed by unproven or investigational treatments received at stem cell clinics."
The Federation was asked to create a "best practices" list for state medical boards to review when dealing with these types of clinics. The result is 11 recommendations that range from reviewing a clinic's marketing materials to physicians being required to support health claims made with documented evidence.
A spokesperson for the California Medical Board said they are now reviewing the Federation's recommendations but there is no date set for when the task force will get to work.
NBC7 Investigates has learned the California Attorney General and San Diego County District Attorney's offices have both received information on various stem cell clinics and their practices. Neither office would confirm or deny that any active investigation is taking place.