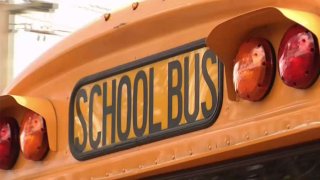 The driver of a San Diego Gas & Electric vehicle was gravely injured Tuesday in a crash with a stopped school bus at a Barrio Logan intersection, authorities said.
The utility van plowed into the back of the San Diego Unified School District bus -- which had no students aboard at the time -- at Boston Avenue and South 28th Street shortly before 8:30 a.m., according to police.
The driver of the van, a 53-year-old SDG&E employee whose identity was not immediately available, was taken to UC san Diego Medical Center where he was hospitalized in critical condition, SDPD said.
The bus driver suffered no injuries in the crash, according to SDPD Officer
Sarah Foster.