San Diegans honored the victims of the deadliest mass shooting in U.S. history Sunday night at two vigils.
Hundreds gathered at the Hillcrest Pride Flag Sunday, at University Avenue and Normal Street, to sing, pray and honor the victims.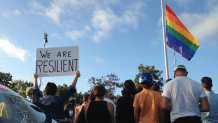 Around 250 people attended the vigil at the North County LGBTQ Center in Oceanside, including elected officials and several faith-based groups.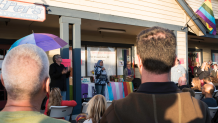 "We are devastated by this horrific act of violence. Our hearts break for all the victims and their families and stand in solidarity with the LGBTQIA community in Orlando. Violence will not intimidate us form living our authentic selfs, or prevent us from loving one another. We must come together as a nation to affirm the love that conquers hate," a statement from the LGBTQ Center of Oceanside read.
Sunday, a gunman armed with an assault-type rifle and handgun stormed into the crowded nightclub, killing at least 50 and wounding 53. The massacre marks the deadliest mass shooting in U.S. history.