Colleagues and family members remembered San Bernardino County Sheriff's detective Jeremiah MacKay Thursday as a devoted father and friend who "stood for good, against evil" and believed it was his duty to track down the subject of a manhunt in the moutains east of Los Angeles.
They spoke at a memorial service for 35-year-old Jeremiah MacKay, killed Feb. 12 during the Southern California search that ended with a shootout at a cabin near Big Bear. The service began after a 20-mile procession to the San Manuel Amphitheater during which MacKay was saluted by firefighters on freeway overpasses and mourners lining the route.
Images: Honoring Detective MacKay | Read: MacKay Funeral Poem | Timeline of Events | Article: Sheriff Describes Shootout

Patrol vehicles from throughout California parked in a lot at the amphitheater -- located in the hills of Glen Helen Regional Park in Devore -- and a line of law enforcement officers on horseback formed near the parking lot to honor their colleague. Mourners held signs, one of which read, "Det. MacKay: Hero," along the procession route and at the entrance to the amphitheater.
Pipe band members and sheep dogs -- MacKay was known as the "Sheep Dog Warrior" -- accompanied his casket. More than 100 pipe band members performed in front of a large flag of the United States after the casket arrived at the stage.
Near the end of the two-hour ceremony, just after doves were released into the air, the voice of a radio dispatcher came over the speakers.
"This is the last call for Detective Jeremiah Alan MacKay," the dispatcher said. "He gave of himself while serving his community with courage and valor. The men and women of the San Bernardino County Sheriff's Department are forever grateful and proud to have served with Detective MacKay and will never forget his ultimate sacrifice."
San Bernardino County Sheriff's Deputy Roger Loftis, the best man at MacKay's wedding, spoke about MacKay's appreciation of fine whisky, cigars and life before explaining MacKay's "Sheep Dog Warrior" approach to law enforcement.

"He was the funniest guy I ever met," said Loftis, accompanied by two dogs on stage. "Everything he did, he did at volume 12 -- everyone else goes to 10.

"He believe the good, caring people were sheep that needed to be protected. There are evil people in the world, and they will feed on the flock without mercy. And, then there are the sheep dogs who live to protect the flock," Loftis said.
Video: Dispatcher's Final Call | MacKay's Father Speaks | Best Man on "Sheep Dog Warrior" | Sheriff Praises MacKay
Sheriff John McMahon, friends and family members also shared memories of MacKay, who is survived by his wife, 7-year-old daughter and 4-month-old son.
At the end of the ceremony, McMahon gave the folded flag that was draped over MacKay's casket to his widow Lynette, exchanging private words with her and the couple's daughter.
MacKay grew up wanting to become a sheriff's deputy, McMahon said. He usually was not assigned to work weekends, but insisted on volunteering to search the Big Bear-area every day during the February manhunt, McMahon said.
"Jeremiah MacKay stood for good, against evil," McMahon said. "He made his uniform, his uniform did not make him. Many of (his wife's) best friends did not know Jeremiah was a deputy sheriff, unless you told them.
"He had the courage, tenacity and resolve to face anything. He remained because it was his duty of the citizens of San Bernardino County to stop an evil man."
MacKay -- one of two law enforcement officers killed during the nearly weeklong manhunt -- stayed home on the day before the deadly shootout near Big Bear. He spent the day with his daughter and son, McMahon said.
MacKay was born in San Bernardino and grew up in Lake Arrowhead, about 20 miles west of Big Bear Lake in the San Bernardino Mountains. His father was an engineer for the San Bernardino County Fire Department, and his mother volunteered at schools.
MacKay's father recalled the time he found his 4-year-old son on the peak of the family's roof.
"He was quite a character when he was a kid," Alan MacKay said. "He was fun-loving, and a kind, gentle soul. But we found out rather fast he was an adrenaline junkie. ... He wasn't bothered by heights. He wasn't bothered by anything."
MacKay continued the family's tradition of public service when he joined the San Bernardino County Sheriff's Department as a member of Academy Class 131 after attending Rim of the World High School. MacKay graduated from trainee to deputy on his 21st birthday.
Colleagues said he was proud of his Scottish heritage and played a key role in the Honor Guard's bagpipe events. The department's Honor Guard selected MacKay to play bagpipes during funeral ceremonies for slain law enforcement officials, parades and other events.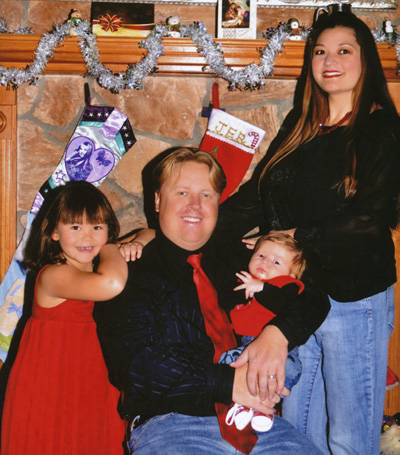 MacKay was most recently assigned to the Yucaipa Sheriff's Station.
A member of the Irish Emerald Society, an association of U.S. police officers and firefighters, MacKay organized an annual fundraiser for slain officers. MacKay and Riverside Officer Michael Crain were celebrated at the most recent event, which had been organized before their manhunt shooting deaths, on Feb. 15.
"He was very much in touch with his Scottish heritage, and loved playing the bagpipes," McMahon said. "He had a distinctive laugh that came from deep inside him -- the laugh of someone who enjoyed life."
MacKay earned several promotions in the department, but his family was the most important part of his life, family members said. He met his wife, Lynette, on Thanksgiving Day in 2010 and the two were married one year later.
MacKay helped his step-daughter Kaitlyn with her karate techniques. His son, Cayden James, was born in October.

MacKay was shot and killed Feb. 12 as the search for fired LAPD officer Christopher Dorner, who outlined a revenge plot involving law enforcement officials and their families in a manifesto, led to a cabin in the mountains east of Los Angeles. MacKay was outside the cabin when he and another member of the San Bernardino County Sheriff's Department were struck by gunfire coming from inside the cabin.
Other deputies arrived and engaged Dorner in a shootout. The cabin burned and Dorner's charred remains were found inside. He died from a self-inflicted gunshot wound to the head, according to investigators, bringing to an end a shooting rampage that began Feb. 3 with the slaying of an Irvine couple.