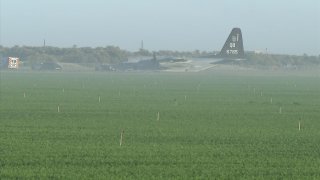 A fighter jet pilot was forced to eject from his cockpit during a midair fueling operation Tuesday in the sky over Thermal, near the Salton Sea, the United States Marine Corps confirmed.
A Marine Corps Air Station Yuma spokesperson said a F-35B fighter jet made contact with a KC-130J during an air-to-air refueling operation at around 4 p.m., resulting in the crash of the F-35B.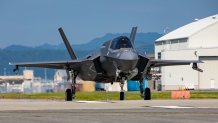 A spokesperson for Cal Fire Riverside said the agency was sending a full response to Polk Street and Avenue 59 in Thermal, about 25 miles southeast of Palm Springs.
The KC-130J is part of the VMGR-352 Squadron, based at Marine Corps Air Station Miramar, according to USMC 1stLt Brett Vannier. It's not yet known where the F-35B was assigned.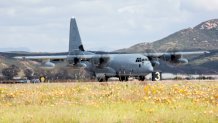 The pilot of the F-35B ejected successfully and is currently being treated, and the KC-130J landed safely on the ground near the Thermal Airport, said Vannier. He also said that people on both planes were injured in the incident.
It's not yet known what the extent the damage was to the C-130; the F-35 was presumably destroyed.
The cause of the crash is under investigation, 1stLt Brett Vannier said.
The Imperial County Sheriff's Department (ICSD) also responded.