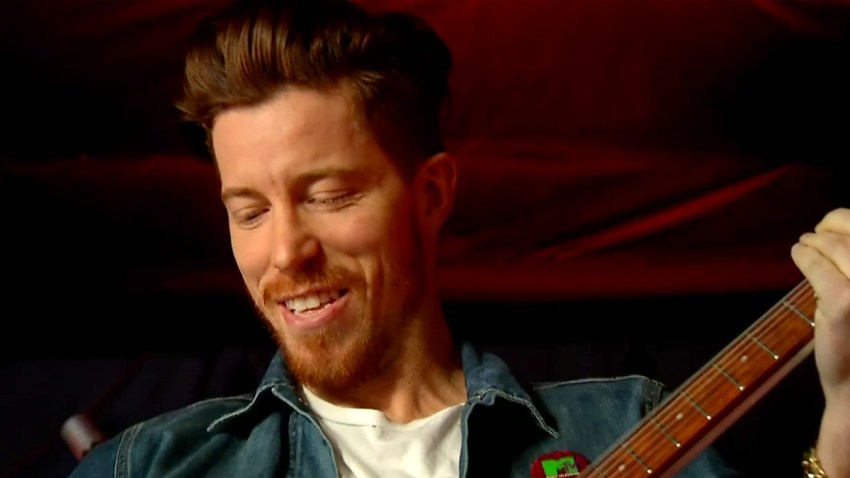 Guitar in hand, Olympian and professional snowboarder Shaun White dropped into his hometown of San Diego Friday for two of his favorite things: a burrito and a jam session with his band.
White, 29, visited Rico's Taco Shop in Encinitas to join local radio station 91X on the station's ongoing "Best Breakfast Burrito Tour," which visits different Mexican food joints across San Diego County each Friday.
After grabbing a bite, he and his band, Bad Things, performed a free concert for young fans at Bro-Am Studios on S. Coast Highway. The young fans clapped and cheered as The Flying Tomato got into the groove.
"It's nice to be in my hometown and feel the support," White told NBC 7. "It's humbling to come home and to see some familiar faces."

White's hometown performance comes a week ahead of a large-scale, two-day music and sports event he's producing in Los Angeles dubbed "Air + Style."

The festival takes place Feb. 20 and Feb. 21 at EXPO Park at the L.A. Coliseum and combines live music, art and the world's best snowboarders going head-to-head on a 16-story snowboard jump. Musicians set to perform at White's fest include Incubus, J. Cole, HAIM and Kaskade, among others.

White describes the event as a "Coachella-meets-X-Games type of thing" and said Air + Style represents each one of his passions and the close connection between sports and music.
"The idea is that you come there, you watch some music, you see the sports – you can try snowboarding for the first time. It really represents the culture behind the sports," he explained.

White said the Air + Style fest began about 20 years ago in Austria. He competed in the event and later went on to host it. Years later, the X Games pro is now the owner of the event.

"My vision for it was to truly combine all the things, selfishly, that I love into one big event," White told NBC 7. "I play in a band, I've played at music festivals; I'm a music festivalgoer. I obviously know the world of sports and snowboard contests, so I wanted to put it all together and really see what happens."

White said he's a walking, or rather, shredding, example of the bond between music and extreme sports. He said music "fell into his lap" through his career in sports
.
"I actually won a guitar at a snowboard contest. It was a prize – you really weren't supposed to play it," he recounted, with a smile. "It was a really nice Fender Strat and I learned how to play from that and fell in love with music. That's how close the world of music is with action sports."

White's band most recently toured Europe with Jared Leto's band, 30 Seconds to Mars.

For more information on White's Air + Style event, or to purchase tickets to the music and snowboard fest, click here.